09/25/2011 – by Cynthia Wright
Growing up in Germany, Sesame Street and the Muppets were one of the few things that was available to watch. So, even though we were miles away, there was some semblance of home. While I was a tot, I didn't realize that this world is being brought to us by Jim Henson and by the time I was old enough to realize, he had already passed. I remember vividly the times that our family would sit together and watch Sesame Street, Fraggle Rock or the Muppet movies on video cassette (that sounds so OLD), wanting to be Animal as he beat on his drums.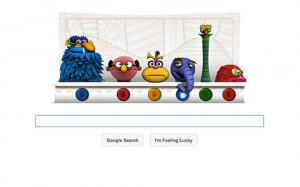 Google Doodle
A lot of my child hood movies is indebted to the characters that Jim Henson created and even though I'm late – I'm honoring him today. With all that is going through my head lately, it's nice to take a step back to a friendly, uncomplicated time.
Yesterday, Google honored Jim Henson by providing him with his own Google Doodle. The doodle was designed by both Google and the Jim Henson Company and shows varied muppet characters with the Google's logo. The muppets were interactive (of course) and was a wonderful tribute to what would have been Henson's 75th birthday.
Of course, it wouldn't be 2011 without folks making their own music videos using the video. If you like the Black Eyed Peas or System of a Down, check out the Doodle interpreting your favorite hits.