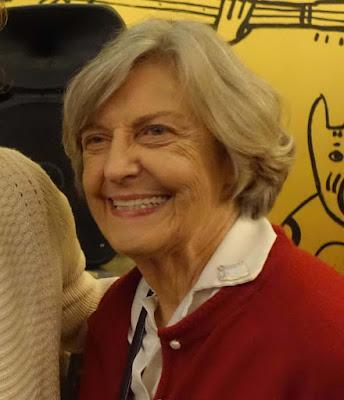 Caroline Gill

I was deeply saddened to hear of the sudden passing of my good friend Caroline Gill. The last time I saw her was just a few weeks ago when she stopped by my house so I could give her copies of my newest books, Planting a Garden in Room 6 and Keeper of the Light: Juliet Fish Nichols Fights the San Francisco Fog. Earlier in the spring we had gone out for a prepublication celebratory lunch at a new little French restaurant in the neighborhood.
Among our many common bonds besides our love of books, Caroline and I shared the same first name—both spelling and pronouncing it the same (with a short "I" as in Carolyn.) She always signed emails as Caroline G. and I as Caroline A. Sadly, I will no longer have to make that distinction. We also shared our Midwestern roots—she grew up in a small town in Iowa, not too far from Grinnell, Iowa, where I went to college. And we both loved to travel, especially to Australia, where Caroline had lived when her then husband (an academic like mine) did a sabbatical year from his job in Michigan. Caroline moved to California shortly after their divorce and began working as a librarian in the LAUSD public schools.
I can't remember where or when I first met Caroline—at the Women's Reading group at Westwood Presbyterian Church where we discussed books and women's issues, or at the Palms Middle School library, where she was the librarian for so many years, or at a meeting of FOCAL (Friends of Children and Libraries), the support group of the children's department of the Los Angeles Public Library. Caroline was the heart and soul of the FOCAL organization, helping to coordinate the annual awards luncheon, library book sales, and other events. She recruited me to serve on the FOCAL awards committee and helped us through the process of choosing the winning book each year.
Caroline was so proud of her family, especially her sons and grandsons, and I loved hearing about their accomplishments through the years. Caroline was also a great cook, famous for her lemon bars that she frequently brought to the book group for refreshments. And she loved to sing and was a member of the church choir. Caroline was devoted to her job as a school librarian and often invited me to speak to her students about my books and the process of writing when she was at Palms Middle School. Caroline touched so many people in her long life. I will miss her very much.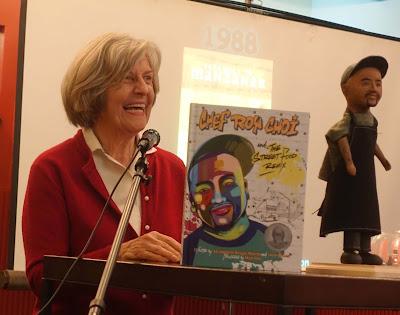 Caroline Gill, FOCAL President, at the FOCAL awards luncheon 2019