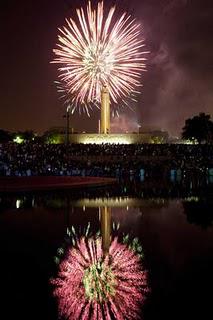 Last night, my wife and I went to Celebration at the Station in Kansas City.  And it was so incredibly awesome, that we have decided to make it an annual tradition.  Essentially it was a classical patriotic concert, with over 60,000 people packing a quarter-mile swath from the amazing Union Station, to the National WWI Museum.  Plus, the weather was nice!   I really can't describe it, or how big it was, but it was certainly the largest outdoor classical concert that I've ever been to.  And, it made me very proud to be in Kansas City.  The music culture of this place is great.  This was a huge event after all; I only see PBS specials like this from Vienna, New York, or Washington D.C.  The architecture is amazing; we visited Union Station for the first time and it's beautiful - certainly in the same kind of majesty as New York's or D.C.'s Grand Central Stations.  Plus the WWI monument is great as well.
As you watch this, you cannot really tell the distances between the stage and WWI monument because of a small cliff in the middle of the lawn, but they are a quarter-mile away from each other.  Below is the playing of Tchaikovsky's 1812 Overture.  Some musicians think this piece is corny (the canon firings in this piece are actually written in the music) but I think it is incredibly exciting!  Oddly enough, it is a piece glorifying Napoleon's defeat to the Russians.  It has nothing to do with America.

It is of course Memorial Day.  Please sit up in your chairs, take your Brunhilde horned helmets off, and observe a caesura in remembrance of the opera stars who have been chosen by the Valkyries to spend the afterlife in Operatic Valahalla.
In chronological order beginning Memorial Day of 2010. (Age at death)
Giuseepe Taddei (93), Christine Johnson (98), Giacinto Prandelli (96), Maureen Forrester (79), Peter Sliker (86), Cesare Siepi (87), Luo Pinchao (98), Laszlo Polgar (63), Dolores Wilson (82), Ulrik Cold (71), Richard T. Gill (82), Shirley Verrett (79), Peter Hofmann (66), Gianna Galli (75), Armando Chin Yong (53), Antonin Svorc (77), Robert Tear (72), Donald Shanks (70), Anthony Rolfe Johnson (69), Dame Joan Sutherland (83), Roxana Briban (39), Hugues Cuenod (108), Frances Ginsberg (55), Solange Michel (98), Helen Boatwright (94), Dame Margaret Price (69), Sona Aslanova (86), Vincenzo La Scola (53), Alda Noni (95)
Deaths of note - how appropriate for opera
Roxana Briban (39) - Romanian opera singer, committed suicide.  She was a very famous soprano, who starred on many of the main stages in Europe.  Her death was also a world-famous tragedy that played out on facebook.  On the day of her suicide she posted to her facebook page a disturbing youtube clip of herself singing "Addio del passato" (so closes my sad story) from Traviata. It is Violetta's aria right before she dies from disease. Click Here to Watch.  But that's not the shocking part, her last facebook profile picture was a picture of her bloody hand (from an opera production I'm assuming). Click Here to See.  She died several hours after posting this by cutting her wrists.
Dame Joan Sutherland (83) - Australian soprano, died of heart failure. One of the most celebrated opera singers in history.

Hugues Cuenod (108) - Swiss tenor.  He was the oldest person to debut at the Metropolitan Opera when he sang the role of the Emporer in Turandot in 1987.
Vincenzo La Scola (53) - Italian tenor, died of a heart attack.  He was one of the world's leading operatic tenors who sang at most of the world's most prestigious houses including the Met and La Scala.