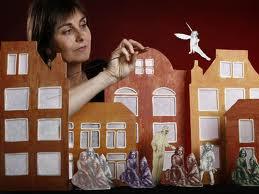 Everyone knows the story of the Amsterdam girl in hiding during World War II. The Diary of Ann Frank is one of the most beloved tales of the struggle Holland's Jewish population faced during the Nazi occupation. But few know the tale of another young woman in Amsterdam at that time. She too was in hiding, and she too was a story teller.
When she was 16-years-old, Sofia, was placed in hiding in Amsterdam. The daughter of children's author Clara Asscher-Pinkhof, Sofia was a talented artist who spent her long days and nights in seclusion by telling picture stories. Telling the tale of her life at that time, and the effects of German occupation, the visual narrative has lived long after Sofia. Her drawings are now part of the award winning play, Sofia's Drawings created and performed by her daughter Efrat Hadani.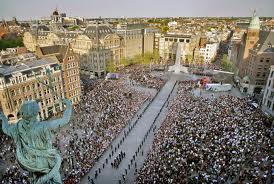 Using puppet theater, dark theater and moving visual art, the performance is a highly moving and creative exploration of the fear and hope of the Jewish community. It is a reminder that many people in Amsterdam were affected by WWII, and of the lasting tradition of paying tribute to everyone and remembering the past.
Debuting for the third year running at theater De Brakke Grond on 4 May, Sofia's Drawings is a fitting way to kick-off Liberation Day festivities in Holland. Each year at 20.00 on that day, Queen Beatrix and the rest of the royal family gather at the Dam Square for the Remembrance of the Dead. Joined by soldiers of past and present, as well as the rest of Amsterdam's community, the queen leads two minutes of silence as she places a wreath of flowers upon the National Monument. Erected in 1965 in honor of all those touched by conflict, it is a reminder of the value of peace and the destruction of war.
As Sofia's Drawings hits the stage an hour later at 21.00, this reminder is carried on. A performance that carries the memories of three generations of Jewish women and their message of love and hope, it is a work of art that lingers on in the hearts of every person.