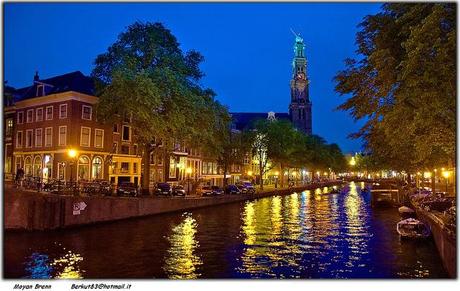 After the successful 2013 edition, there was no question if there would be another Amsterdam Light Festival this year. Even more light artworks will be hanging above, standing next to or will be floating above or in the water. For fifty days the city will light up and demonstrate spectacular illuminated artworks of contemporary national and international artists.
The theme of this year's festival is 'A Bright City', which will challenge artists to create and present the reflection of the modern city of Amsterdam. Thirty light sculptures, projections and installations will be placed in the historical center of the city and along Amsterdam's canals and the Amstel.
The event will feature a canal cruise, Water Colors, and walking route, Illuminade. Water Colors will bring visitors to the special boat route through the canals of Amsterdam and give visitors an opportunity to see all the artworks from the best angle. This is a unique experience to get close and personal to the light art. Various specials have been made by cruise companies in Amsterdam. Illuminade will lead visitors to the old streets of Amsterdam and present the best works of light art. Please note that Water Colors will take place from 27 November 2014 to 18 January 2015, and the walking route, Illuminade, from 11 December 2014 to 4 January 2015. There will be no tours available on New Year's Eve.
During the festival, light will play a central role in local museums, theaters, shops and restaurants. An extensive side-programme with additional events and activities will be presented by different institutions in Amsterdam.
Amsterdam Light Festival is also an important event, which demonstrates the progress made in the light industry. The Netherlands is a leader of innovative light design and LED revolution, which promotes energy efficient sources of lighting. The festival makes these changes visible and understandable for a wide audience.
Thanks to the festival, the city of Amsterdam will be illuminated and enriched with art during the darkest months of the year. Annually the event brings together tourists, professional and locals who are interested in viewing and discussing the modern light art together. It is a unique opportunity to experience the Amsterdam from the different angle and be 'enlightened' with colorful and engaging artworks.
Sources: amsterdamlightfestival iamsterdam AmsterdamCityTours
© 2014, Amsterdam City Tours Blog. All rights reserved.
On republishing any part of this post, you must provide a link back to this original post