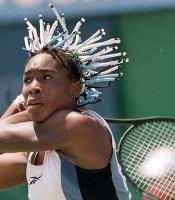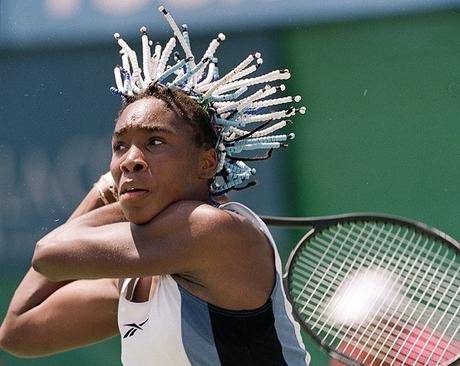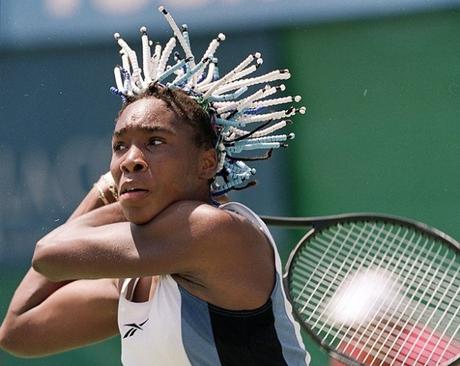 Remember back when Venus and Serena first came on tour? They both wore their hair in those crazy braids, covered with beads. There's nothing wrong with that, unless it creates a hindrance on the courts.
Ummmm… How can a hairstyle cause a hindrance?
Let's see… The beaded dreds flop around and make annoying clicking sounds with every movement. OK… But does that qualify as being a hindrance? What if a few of those little beads accidentally fell onto the court? More than once? Now that's a BIG hindrance!
According to this USTA rule:
26. HINDRANCE
If a player is hindered in playing the point by a deliberate act of the opponent(s), the player shall win the point. However, the point shall be replayed if a player is hindered in playing the point by either an unintentional act of the opponent(s), or something outside the player's own control (not including a permanent fixture).
Since the Australian Open is going on right now, I thought it appropriate to highlight this video from the 1999 Australian Open. It was the quart final match between then world No. 1 Lindsay Davenport and No. 5 Venus, when a few of those pesky beads fell off during a point. The umpire called a let the first time, and they re-played the point. But when it happened again, the umpire awarded Davenport the point. (Hmmmm… So that meant the beads were within Venus's control??)
This sitch seemed pretty controversial at the time, not just because the offensive hair accessories were so tiny, but because Davenport didn't even notice they had fallen off. But the umpire did, and rules are rules.
What do you think? Do the tiny beads qualify as a hindrance, or was Venus wrongfully robbed of the point? I'd love to hear your thoughts below!