RE/MAX Results was recently named the largest RE/MAX brokerage in the WORLD, and our co-broker/owner John Collopy said THANK YOU, TWIN CITIES in a full page ad in yesterday's StarTribune!
He said THANK YOU...
to our hundreds of thousands of valued customers
to the most productive sales executives in the world
to the hard working support staff that make this possible
Awards earned by RE/MAX Results include...
Distinguished service award
Top net gain in associates in the US and worldwode
Largest multi-office network in the US and worldwide
Top office in sales volume in the
I am proud to be part of this outstanding company.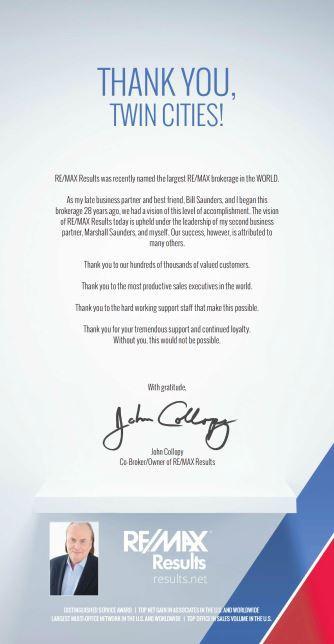 Sharlene Hensrud, RE/MAX Results Realtor - Email - Twin Cities RE/MAX Realtor
RELATED POSTS
Study confirms RE/MAX agents sell more homes
Mpls St. Paul Super Real Estate Agent 2013... 6th year in a row!