Last time I wrote about the buggy, I knew that Isobel would still be dependent on it by age three.
I knew that it wasn't 100% perfect, but that it would be best for us given the space and capacity in our home, not to mention flexible enough to accommodate Ben up to walking stage – unlike the specialist tandem buggies available in the UK with a second-child seat that only went up to six months.
That buggy is still the best decision we could have made. We can pack it in the car without injury to our backs, assemble and dissemble it in seconds, and place Isobel and Ben in it before we go out the front door.
The specialist alternative would have meant hauling the various parts right outside on the street and assembling it there, before making two return trips for each child. Our front door and gate were (still are) far too narrow. Getting a buggy that could fit into the house and car made far more sense than getting a house and car to fit the buggy.
Nevertheless, I bore Isobel's specifications in mind when we bought the Baby Jogger City Select buggy. I knew that eventually, she'd need adaptations to ensure both a straight spine while seated and to avoid her frogging her legs. But we were both determined to hang onto it for as long as possible, and if not, then at least until Ben was fully ambulant – in which case, we'd swap it for a wheelchair for Isobel. (The Baby Jogger seat has capacity for up to 45lbs, or roughly 20kg.)
Sure enough, the other month Isobel wound up sitting in the buggy like Hasheem Thabeet driving a Mini; her footrest just wouldn't extend far enough. Additionally, she was starting to slump to the side.
So I got in touch with Remap.
Remap are brilliant, and I'm not just saying that as a plug. A national charity that works to enable people with disabilities to lead more independent lives by modifying or creating everyday devices with surplus materials, Remap's regional teams comprise mainly of skilled volunteers who work tirelessly to ensure optimal comfort. They're not endorsed by the NHS – indeed, to my knowledge they don't feature on lists of NHS-approved suppliers of wheelchairs and buggies – but they do work with NHS equipment where required.
The man assigned to modify Isobel's buggy seat was Thomas Hinks, who once worked for British Aerospace. He made just two visits.
The first visit was to assess the buggy and discuss its shortcomings with us, before making all sorts of measurements in his notebook. The second was accompanied by a nurse, who assisted him in making the adjustments. Both visits took quite a few hours; both times, once we'd had our discussion we just left Hinks to get on with his work.
Where I can, I'll let the images speak for themselves.
First, Hinks removed the footrest and cut the fabric lining that connected it to the buggy seat (with our full agreement, of course). He then bolted wooden extension rods, complete with custom-made bolt-holes, on both sides: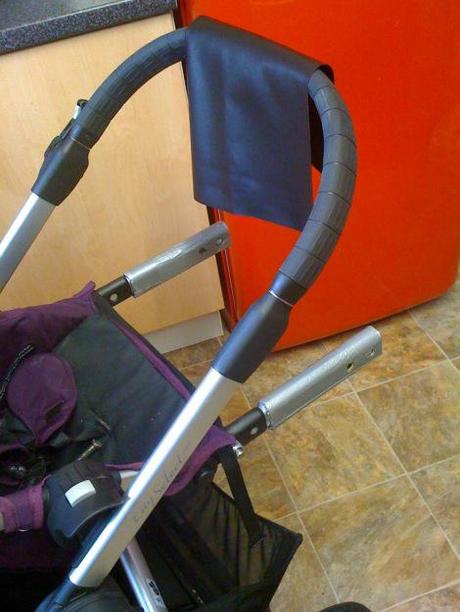 Next, he got the nurse to use a piece of imitation leather to extend the fabric lining underneath, before screwing the footrest back on. This is how Isobel's legs looked with the new extension: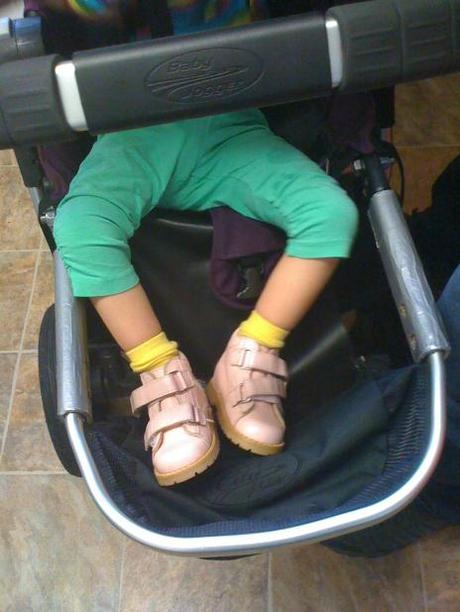 Already, it was looking more comfortable, but Hinks wasn't finished.
He had in his possession some long foam padding covered in fake leather. These he cut in long strips and snuggled down inside the full length of the sides from the top of the seat to where Isobel's knees lay with velcro tape. Finally, he fitted shorter pieces of padding on either side of her head.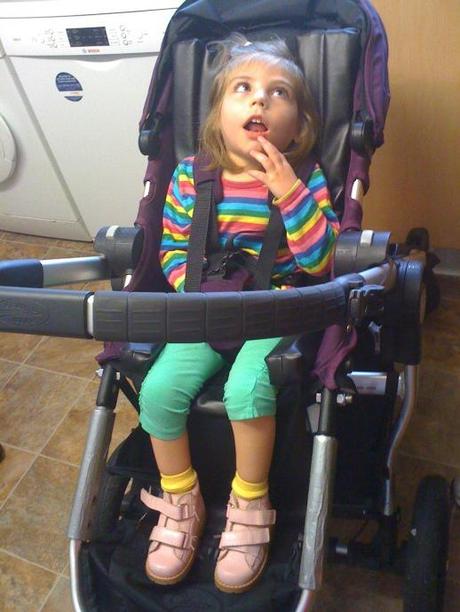 See how relaxed Isobel is? And she has been happy as Larry in it ever since. (Even better, the buggy rain-cover still fits. Who would've thought it?)
Of course, we can't put Isobel's seat on eBay once we've finished with it, and the buggy is not as ultra-flexible and slick as it once was. But it remains the best decision we're ever made, and we're thankful to Remap for making sure of it.