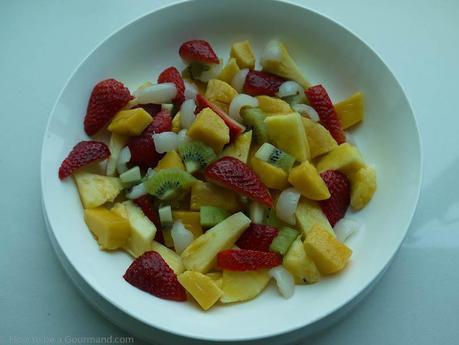 Refreshing Fruit Salad
The last few days have been very humid, the air is thick and heavy and I've been parched most mornings when I wake up. I think Spring must have passed us by. In fact, I think Hong Kong goes straight from Winter to Summer. We are now experiencing temperatures of 32 degrees C. How on earth am I going to deal with the months of July and August? But I have a couple of friends in the form of air conditioning and fruit salad. Ahhh, thank the Lord!
My last trip to the market involved buying these little babies. Know what they are?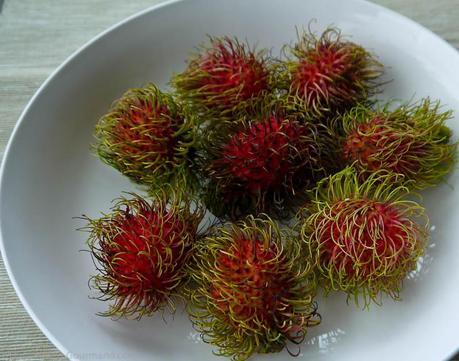 Rambutans anyone?
I was both perplexed and intrigued. Not, the prettiest fruit, are they? I found out that they are called Rambutans and are very popular in Vietnam, The Philippines and Malaysia. But what was I going to do with the unsightly, hairy fruit? Well, the obvious choice for me was a fruit salad. Using the rest of the ingredients in the fridge and a wee bit of inspiration from Jaden at Steamy Kitchen.
In Hong Kong, it's not too hard to come across a variety of ripe fruit, only downside is that a lot of it is imported which raises the price. My strawberries are from the USA, my kiwis are from Italy and my mango and pineapple are from The Philippines. A truly global fruit salad!
After you remove the skin, I would say that the Rambutans are a cross between a lychee and a grape. They are larger than lychees with a large stone in the center. They are also very lightly perfumed.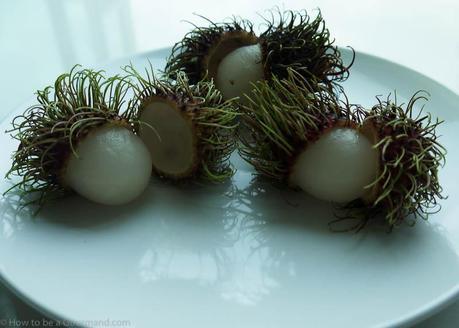 Rambutans unpeeled
The dish is full of fruit to get you hydrated again. Have a look at the ingredients and try it out. You won't feel thirsty for a while, I promise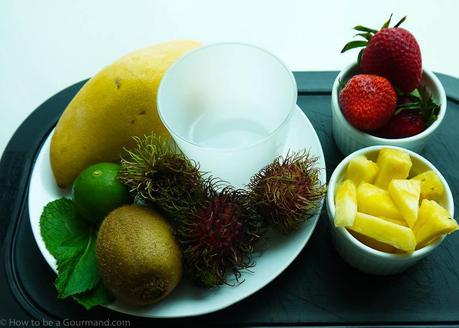 Ingredients of Refreshing Fruit Salad
Print Refreshing Fruit Salad
Prep Time: 20 minutes
Total Time: 20 minutes
Serving Size: Serves 2 for Breakfast
This is such an easy dish to make. It just involves a lot of chopping and peeling fruit and is jazzed up with a tangy lime dressing at the end.
Ingredients
Salad

2 slices of fresh pineapple (1/2 inch thick), chopped into cubes
1 mango, peeled, stoned and chopped into cubes
3 rambutans, peeled, stoned and chopped into cubes
1 kiwi, peeled, sliced and chopped into cubes
3 large strawberries, topped, halved and sliced
A few fresh mint leaves chopped, to garnish

Dressing

1/2 small lime
40ml of sparkling water in a small glass
Instructions
Squeeze the contents of half a lime into the glass of sparkling water, ensuring that no pips pass through
Arrange the chopped fruit in a large shallow bowl
Take a tablespoon and pour the dressing liberally over the fruit
Garnish with fresh mint leaves if desired.
Eat immediately!
Schema/Recipe SEO Data Markup by ZipList Recipe Plugin2.0http://howtobeagourmand.com/refreshing-fruit-salad-including-a-very-hairy-fruit/Unless otherwise stated, text and photographs © 2011 How to be Gourmand. All Rights Reserved. Kindly request permission from the author to copy or reproduce elements of this blog.