On 6 March 2012 thousands of Russian protesters filled the streets of Moscow to protest the election of Vladimir Putin to the presidency. One young lady in particular stood out to me, Maria Baronova. A tall and striking figure, she has been the subject of a number of magazines, Maria who is a single Mom stood up to the Russian riot police on a day when hundreds were arrested and many injured at protesters and riot police clashed later in the day.
When I first saw the scene of Maria standing there, it made me smile. Not only a very pretty lady, she is strong and determined. I'd not want to get on her bad side, that is for certain.
What really made me smile was her determination to stand her ground and recite sections of the Russian Federation Constitution to a group of young recruits in training. As events had not yet turned violent at that point, the recruits were on the front lines for training purposes. That would change later in the day but at this point the more seasoned OMOH Interior Ministry troops were lined up in formation to protect the Kremlin, behind the younger troops.
As Masha Green wrote so well in the Moscow Times later, "(there was) Maria, standing before the soldiers and reciting Article 31 of the Russian Constitution, which guarantees freedom of assembly. A command sounds: "Step forward!" The soldiers step forward. Maria refuses to retreat and continues to recite the law. The command sounds again. Now she is wedged among the troops. Still, she keeps going."
Officers commanding the new recruits tried to convince her to step aside only to be lectured on Article 31, the section of the Russian Federation Constitution that guarantees free speech and freedom of assembly. When one officer tried to convince her that they must obey the president, Vladimir Putin, she lectured him on the institutions of democracy.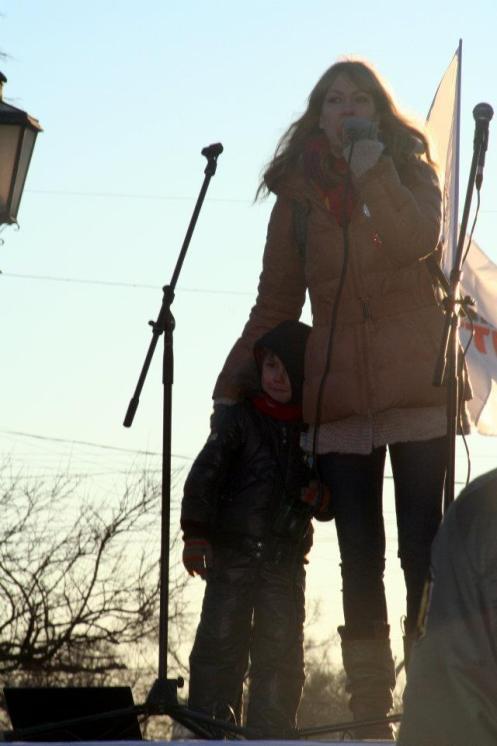 (Maria addresses a protest rally with son at her side.)
So today as Maria awaits charges of inciting riots and unrest, I worry about her little son who will go to live with his father if/when Maria is sentenced. A mere 1% of Russian court cases end in acquittal. Nonetheless, Maria believes that the struggle to reform Russia is a sacrifice she must make for her son.
The protest of May 2012 is more than a year removed but Maria has become a committed activist. Oh, and how is she getting along with those young recruits in training?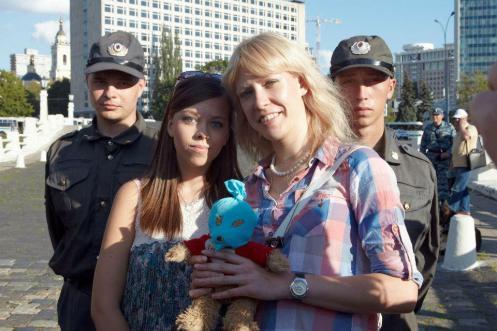 Maria Baronova, August 2012.
It appears that the power of belief in a Constitution may resonate with those who have ears to listen.