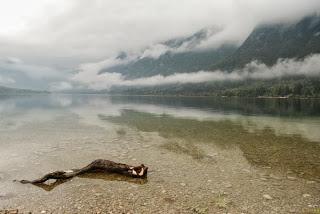 There are many days during our travels where our photos turn out "just okay."  Overcast skies, slight rains, crowds, or restoration and construction can severely alter the dream of getting that perfect shot.  We still end up leaving with good photos, but they are not ones that blow us away or deserve publishing online.  It is a fact all photographers must deal with when shooting city and nature scenes as you are always at the mercy of your surroundings.
Some wait, while others like us move on to enjoy traveling as our first priority.   In extreme cases the perfect shooting conditions come along on a day we're visiting; one more serious photographers could wait weeks for.
Our trip to Bohinj Lake in Slovenia had these perfect conditions, and we were like two kids in a candy store for the entire morning.
A Fearful Outing to Bohinj Lake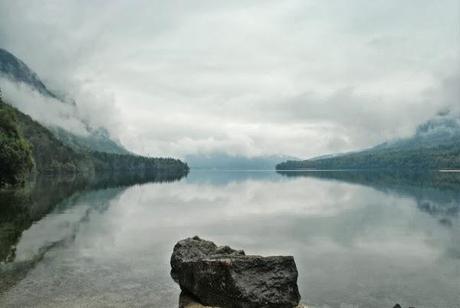 I was hoping for sunny skies when visiting the lakes of northern Slovenia so we could have a chance to get that famous postcard shot, but we were faced with cloudy skies for the entire stay.  We went out to Bohinj Lake to explore anyway, half afraid of a rainstorm that could have started at any moment, and were blown away by what we saw. 
On this particular day, clouds were the best thing we could have ever asked for.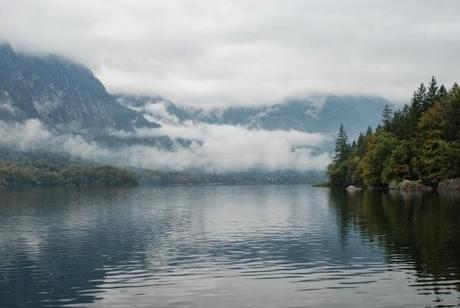 Our first glimpse at the lake was one of astonishment.  It was cloudy beyond comparison, yes, but something about it made it beautiful.  The clouds were rolling over the mountains and through the valleys, the lighting was neither too dark or too bright, and the lake was almost perfectly still.
From that point on, everything became the focus of our attention.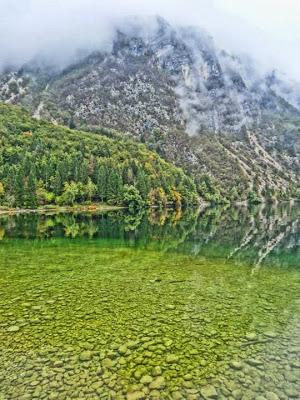 Those rocks partially submerged?  I'll take thirty, thanks.
That emerald green water with fog on it?  Add 10 more shots to the collection.
The clouds reflecting off the water?  You know it.
Or how about that half sunken canoe?   We spent a good 5 minutes just there alone.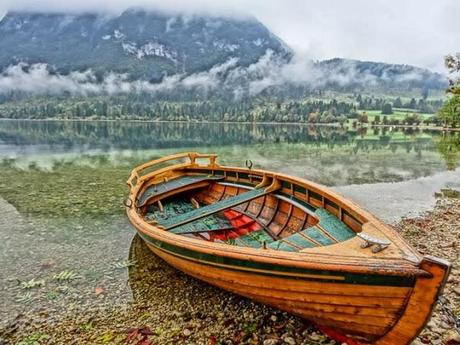 In fact, Angie and I spent a good part of the morning throwing out every major travel cliche we could just because there were no better words to describe it.   I'll save you from it all here, but yes it was very quaint and idyllic the way the rocks were nestled together in the water.  I think those are the big three everyone hates, but were perfect to describe the outing to the lake in every way possible.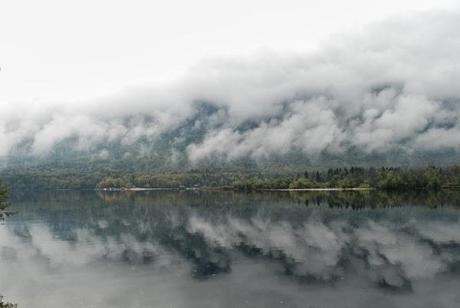 How can you find better words to describe the scenery when this is your view for a 3 1/2 hour hike?  I really can't do much better than just showing the photos and let the images do the talking for themselves.  It was really that spectacular.
A Shift in Perspective Goes a Long Way
About halfway through our photography session at Bohinj Lake I had an interesting thought.  A picture I had taken had some of the most beautiful symmetry I have seen in our photos of the trip yet.  I focused my attention for the next hour to take photos to be shown in a different style.
But for you to really understand what I mean, we're going to shift your perspective 90 degrees for the next two photos.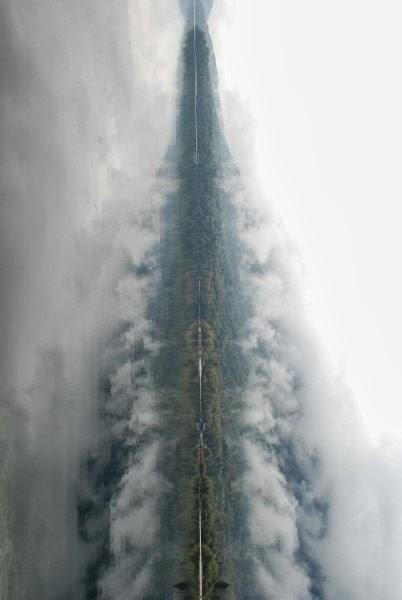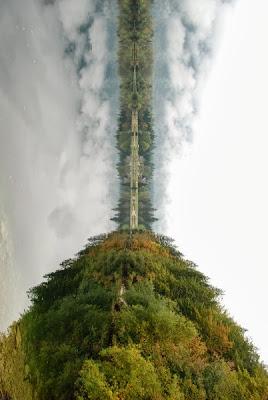 What amazed us most about this lake was that photos like these were possible.  In fact, the reflections are so compelling that you almost get lost into them and forget that it is taken on the surface of water with only trees and clouds reflecting back.   Instead, it is a whole new scene that can only be interpreted through your own mind.
Our only major regret from the whole day was that the rain did finally come, and we had to pack it up and head back to Bled for the rest of the afternoon right before completing our first lap of the lake.   But when reflecting on all we got to see and the photos we took, I can't really complain.

For those wishing to visited Bohinj Lake, an hourly bus is available from the main bus station in Bled.  Tickets are around 4 Euro per person and the train departs at 20 after the hour, every hour (October 2013 timing).  Return pickups are at around 40 to 50 after the hour depending on your pickup spot.   We recommend starting your trek on the path going to the right when you arrive to the lake, as the bus stops are all on the main road on the left in case you want to jump on earlier to head back to town like we had to.