You Can't See...Everything.
by
Paul J. Pelkonen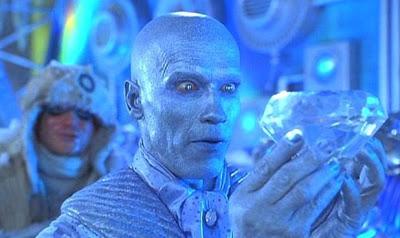 "Vhat do you mean vhe missed der recital?"
Arnold Schwarzenegger as "Mr. Freeze" in Joel Schumacher's Batman and Robin.
Image © 1997 Warner Brothers.
So I saw a
New Yorker
column today about Radu Lupu and how he's the pianist that all the "cool kids" (not the words used in the article) are going to go hear in recital tonight. (He's playing at Carnegie Hall this evening.)
For a moment, I felt bad because I'm not going to be there. I'm scheduled to hear tonight's New York Philharmonic concert with Lorin Maazel leading the Shostakovich
Fifth
, along with the Tchaikovky
Romeo and Juliet
and
Chain 2
, a Lutoslawski piece played by soloist Jennifer Koh. Yes, it's the second night of the run, but I had another social engagement the night before
And then I sat and thought, and started to write this.
In this classical reviewing business, we lucky, accredited few who get to attend performances and sit in judgment of the artists working hard on the stage try to set our schedules pretty far in advance. And when you're a sole proprietor like I am, without the benefit of an Arts Editor to help you plan your listening agenda, you can't see everything.
I try to strike a balance. I see (just about) every production the Metropolitan Opera puts on, despite (still) having to
buy
my tickets. (If you want to be a sportswriter, you've gotta cover the Yankees.) I regularly attend concerts at New York Philharmonic and Carnegie Hall, and am always grateful for having warm relationships with those excellent organizations.
My orbit also includes the 92nd St. Y, the New York City Opera, the Brooklyn Academy of Music and occasional field trips to Newark, Boston, Philadelphia (tomorrow!) and Washington D.C. In 2011, I got to visit Severance Hall for the first time. This concert season started at the Kennedy Center with
Anna Bolena
and
Don Giovanni
at the Washington National Opera.
Next month,
Superconductor
gets on the 20th Century Limited for two nights in Chicago--with reviews coming of
Die Meistersinger
at the Lyric Opera and a special Wagner Night at Orchestra Hall with the Chicago Symphony Orchestra conducted by Esa-Pekka Salonen. Yes, I'm excited, tho I'll miss a Yannick Nézet-Séguin
Rite of Spring
at Carnegie Hall.
Yes, I work hard. And yes, it's an exhausting, even brutal schedule. But I can't see
everything.
But then I take a deep breath. And I remember that next week, I'll be seeing Radu Lupu play after all. He's playing Beethoven with the New York Philharmonic and I'll be attending on Friday, Feb. 1.
Guess I am one of the cool kids.
Thanks for reading. See you at the concert hall.
Paul J. Pelkonen
Editor, 
Superconductor.