Reese Witherspoon is happily engaged to Hollywood agent, Jim Toth, and Reese seems to be over the world for her proposal ring. Toth gifted a ring that truly represents style, antiquity and class. The ring is 4-carat Ashoka diamond ring that is designed to platinum and small pave diamonds. If you haven't seen Ashoka diamond, you need to blame it to its unique and rare cut. It is easily one of the most elegant cut diamonds and has an exceptionally old charm. The cut is unique and exceptional, and it truly matched Reese's unsurpassed beauty and talent. While male fans seem to be heartbroken for losing out Reese to Jim, female fans are surprised at the uncommon choice of the diamond stunner.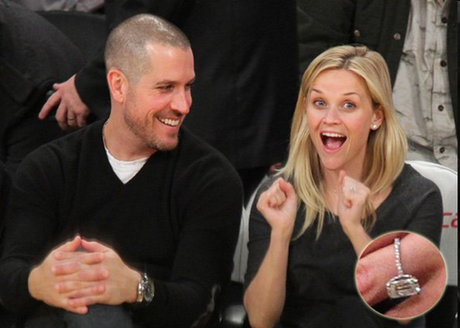 The design and style
Just before viewers got a peep into Reese's prized possession, not many had the idea about an Ashoka cut diamond. The diamond is incredibly rare as it has 62 facets and rounded corners that give a classic dazzle from every angle. It has been claimed by the designer of the ring that only 10% of the total diamonds mined have the capability to being transformed into this cut, as the shape is unique and the brilliance is maximum. The ring brought back the style of retro diamond wedding rings, and soon many women wanted a ring that looked similar to that of Reese. Needless to mention, the price of the solitaire itself is assumed to be in several thousands of dollars.
The ring was designed on platinum, to maximize the brilliance and fire of the Ashoka diamond. The platinum band has been studded with high quality pave diamonds in three lines. The diamonds seem to be carefully chosen, with each one competing with the other for dazzle. Her engagement cum proposal ring drew a lot of attention during and after her wedding for exclusivity. Although many celebrities have sported fancy shaped diamonds for their weddings and engagements, Reese's choice was different from others as the solitaire was distinguished from most other classic designs. Everything about the ring was retro and classy.
Buying rings matching the shape
Traditionally, Reese's ring looks like a blend of old world and new fashion concepts. Ashoka diamonds are undoubtedly expensive as they are rare and considered classic, but buyers can find similar designs on online loose diamond stores. Platinum has always been the first choice of diamond lovers, and Reese's ring is no different. For those who want to look for cheaper metals, while or yellow gold can be suitable choices. The pave diamonds are same you would find in any precious assorted setting, but thanks to the beauty of the solitaire, the ring seemed to be a designer's delight. According to sources, the Ashoka diamond measures a little over 4 carats, and this is huge for the cut. If you love diamond engagement rings, you can find plenty of decent options that look similar to the cut adored by Reese. The style is surely rocking and will continue to be in business for some years to come.
Also have a look at Jennifer Aniston's Diamond Engagement Ring From Brad Pitt