You guys… it's the end of January! Can you believe it?! Yep, neither can I. It's so ridiculous how much time flys.
Not many favourites this month, only because I haven't bought anything new (Project 100 Pan, in full swing this year) and I'm still trying to use the products I already have.
Anyway, without waffling on too much, here are my favourites for January…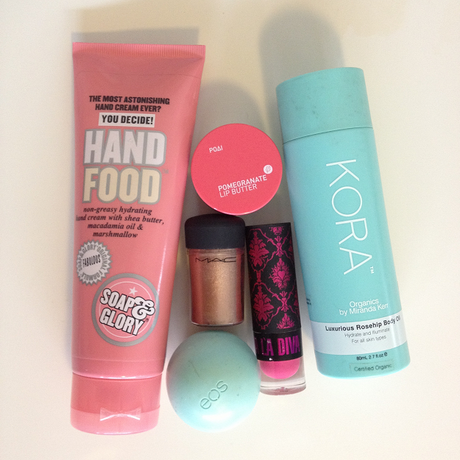 Korres Pomegranate Lip Butter
I bought this ages ago from Kit Cosmetics and I just left it at the bottom of my lip balm drawer til the beginning of 2013, just after I had moved and rediscovered it.
Because Australia is in the middle of Summer, I've been opting for minimal makeup. Instead of wearing my signature bold hot pink lip I've just gone for the tinted lip balms instead.
This one has been my most reached, even though Quince is my favorite.
Available from Kit Cosmetics for $18.95.
KORA Organics Luxurious Rosehip Body Oil
KORA Organics is one of my favorite skincare brands, so it shouldn't be a surprise that I've been using this all month.
After I shower, when my skin is still a little damp I apply this with my body lotion and it leaves my skin so soft and silky.
Available from KORAOrganics.com or in the beauty department at David Jones for $59.95*
* – Price may vary.
Soap & Glory Hand Food
I've been very impressed with this hand cream this month. It's been my go-to product this month and I'm in love with it!
Non-greasey, smells sweet but not too overpowering and you're hands feel soft and hydrated for hours afterwards.
Available from Kit Cosmetics for $11.95 (125mL)
MAC loose pigment in 'Tan'
I don't know if this is a M.A.C Pro pigment but I bought it at the Pro store in Melbourne when I was still living there. I don't believe it is, but it could be. Either way, I rediscovered this when I moved into my apartment late December and I've been using this for my every day look. It's a lovely champagne color and it's works well for both day and night makeup.
Available at M.A.C for $39.00.
EOS lip balm in 'Sweet Mint'
By far my most reached for product this month. I usually apply this before I do my makeup in the morning, so by the time I do my lipstick at the end it's already absorbed into the lips.
A limited range can be bought from their website, EvolutionOfSmooth.com or try your luck on eBay.
ChiChi Viva La Diva matte lipstick in 'Bimbo'
This has been on my radar this month. Loving matte lips with a shimmery eye look; nothing really to it. I'm sure I've included this in a previous favourites post, too.
Available from Myer, Target and Gloss for around 18.95*
* – Price may vary.

1. Prince of Wales tea
2. Ecoya Sweetpea & Jasmine candles
3. Antipodes still bottled water
4. Driving
5. Organic coffee

1. Lena – To the Moon
2. Lisa Loeb – Stay
3. Paramore – Misery Business
4. Something With Numbers – Stay With Me Bright Eyes
5. Taking Back Sunday – MakeDamnSure