Ah, here we are at the end of such a beautiful month. February has always been a favorite month for me. This year, I celebrated my Valentine's Day with Joe, who also celebrated his birthday and we decided where we were holidaying for my birthday in September (yep, we're planners).
Here are my favourites for this month… which is more about lip butters than anything else. HAHA!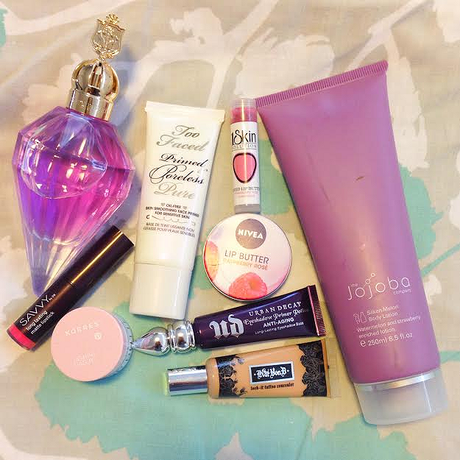 'Oh So Sheer' by Katy Perry, $49.95 (EDP 100mL)
I got this earlier this month and I've been obsessed ever since, wearing it every single day, even to bed. It's a light fragrance and not too sweet. Definitely a Spring scent and the bottle is just to die for! Brand new favorite scent.
The Jojoba Company Silken Melon Body Lotion RRP $29.95 (150mL)
In early-December last year I wrote about this and once again it's been my most reached for product. It's so smooth and silky, non-sticky and doesn't have an overpowering scent. Leaves the skin like cashmere. I love everything about this product and can't fault it.
Too Faced Primed & Poreless Pure Oil-Free Face Primer, $30.00 US (28g)
My sister went overseas in January and did a bit of shopping for me at Sephora. One of the products I really wanted to buy was this, because I had used the other Primed & Poreless primer before and loved it. Because this is oil-free, it's ideal for oily/combination skin, and it keeps my face shine-free.
Korres Jasmine Lip Butter, $18.95 (6g)
This was a rediscovered product that I hadn't even opened yet! It's slightly tinted and melts into the lips so smoothly. I've been adding this on top of my bold lip color to tone it down, but I have worn it on it's own when I'm just heading into Five Ways for a coffee.
Urban Decay Anti-Aging Primer Potion, $24.00 US (11mL)
This was another product my sister picked up for me at Sephora. I received a sample of this when I bought the NAKED3 palette and I fell in love with it. Highly recommend it, especially if you already use the original Primer Potion. I'm yet to see the anti-aging element to it, but only time will tell if it really works.
1Skin Solution Tinted Lip Butter in 'Strawberry Rose Champagne', $9.90 (5g tube)
This month I really toned down my makeup; eyes and especially lips. So instead of wearing my bright fuchsia lipstick everyone knows me by, I've opted to wearing lip liner and this tinted lip balm. It's not too in-your-face and really casual. It also smells AMAZING! Massive fan of 1Skin Solution, and this month also, the owner Raylene welcomed a baby girl into the world.
Kat Von D Lock-It Tattoo Concealer in 'Medium', $25.00 US (17mL)
One last product to mention that my sister picked up from Sephora is the Kat Von D Lock-It Tattoo Concealer that I've been trying to get my paws on for months! I heard it's the same as DermaBlend but not as thick. So I jumped at the chance of buying this and I absolutely LOVE it. It really covers up dark circles and spots. If you can get your hands on this, DO IT! You need the tiniest amount to cover both eyes and any areas on your face you want to cover up, so a 17mL tube will last you forever.
Nivea Raspberry Rosé Lip Butter, $5.69 (19mL)
YES! Finally! You can now buy this in Australia, and let me tell you – it is everything everyone is saying it is. It's creamy, non-sticky, sweetly scented but not too sweet. I've been wearing this mostly to bed, to keep my lips hydrated throughout the night. It makes your lips silky smooth by the morning and still smelling heavenly. Get this – like, yesterday.
Savvy Long Lasting Matte Lipstick in 'Blossom', $6.99 (2.8g)
Since I've toned down my makeup this month, I found on occasions where it's required something a little more formal, I've been reaching for this lippy. It's matte and creamy and doesn't dry out the lips. The only bit of advice I'll give when wearing this shade is to make sure your lips are properly exfoliated and hydrated before apply this. Every last flake of skin, crease and bump will be highlighted if you don't have flawless lips to start off with. If you don't want the matte look to it, apply a shimmery lipgloss – it will look amazing!


Also this month I've been obsessed with Disney's Frozen, which includes the soundtrack. I watched the movie three times already and had the soundtrack playing on my iPhone and in my car all month!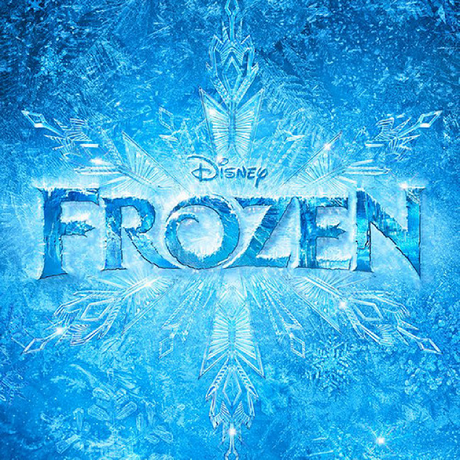 What are your February favourites?

LOVE 
(

0

)
LIKE 
(

0

)
RELATED POSTS:
REESE RAVES – September
REESE RAVES – September
REESE RAVES – December
REESE RAVES – July
REESE RAVES – November