Here we are at the end of another February, so you know what that means…? Here are the things that I'm raving about this month!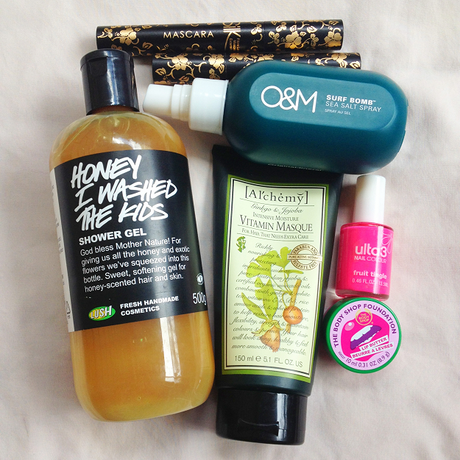 The Body Shop's Dragon Fruit Lip Butter
I did a product review on this product earlier in the month and I've been obsessed with it since. I don't use this at night (because it leaves this hideous white film on your lips) but it smells amazing and it's hydrating. I think it's limited edition, so best hurry in to The Body Shop quick!
Al'chemy Intensive Moisture Vitamin Masque
I thought I'd do my hair a favour and put a masque on it this month because it's been ages since I last did it. I've used this before so I knew it would work.
Let me just say that ever since I started using the Al'chemy haircare range it's changed my hair completely. It's healthier, stronger and lighter. I have very thick oily hair and it's such a chore to have to wash thick heavy oily hair regularly. In fact, washing my hair is my least favorite routine, so the less I have to bother with it – the better.
Now that I've been using the Al'chemy's Lemongrass shampoo and the light Jojoba conditioner for a few months I've noticed that my hair doesn't require regular washing; I wash my hair twice a week now.
Using the masque restores moisture and makes my hair feel a million times softer.
O&M Surf Bomb Sea Salt Spray
Quite possible the better version of the sea salt stray (other than Toni & Guy) because it's not sticky like other brands and not dry like the actual ocean. I've been obsessed with this product all month in hopes to hold on to the last days of Summer for as long as possible. It gives my hair volume and body and that 'I went to the beach this morning' luscious look.
Silk Fibre Lash Mascara Extensions
I'm sure you've heard of these before. I know that Model Co. came up with them years ago and since then nearly every one has a variation somewhere.
This was probably the first (although I don't doubt that it's the only way) which have black fibers. They're better than the while alternative, that's for sure.
Ulta3 nail polish in 'Fruit Tingle'
This has been my most worn nail polish this month. I never really got into the neon phase and the only reason why I own this is because $2 of a nail polish was just too good to pass up.
I used this in my Valentine's Day themed nails earlier this month. Two coats is all you really need to achieve the full neon shade.
Lush's 'Honey I Washed the Kids' shower gel
WELL! If you've been following me on Twitter you'd know that I am obsessed with Honey I Washed the Kids soap and shower gel. So much so, I've giving me cat a bath in the shower gel on many occasions.
I don't know what it is about the scent of it. It's not a sweet honey smell, but a nice one. I just love it! I prefer the soap over the body wash though.

The Burger Joint
Coconut + Goji Pana Chocolate