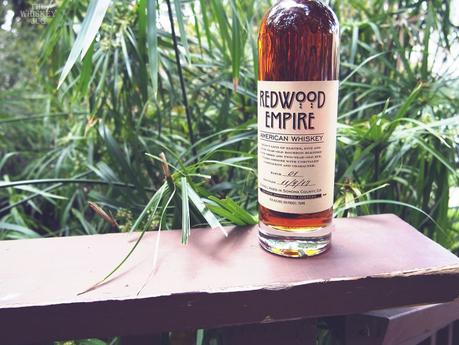 Redwood Empire American Whiskey is a combination of sourced bourbon and "house-distilled" rye made by Graton Distilling in Sonoma, CA. They don't call out who they're sourcing the bourbon from, but there's an essence to it that reminds me of the Redemption bourbons which are from MGP, but there's also a bit of something that reminds me of the 1792 bourbons which are Barton; both of which are excellent candidates. Being a bourbon and rye blend, the Redwood Empire American Whiskey joins the ranks of
High West Bourye
,
Rebel Yell American Whiskey
and Wild Turkey Forgiven in a unique category that blends America's two iconic styles of whiskey. Which, honestly, is something I'd like to see more of. More careful and attentive blending of American whiskeys that result in something unique and different in the market.
Whiskey Review: Redwood Empire American Whiskey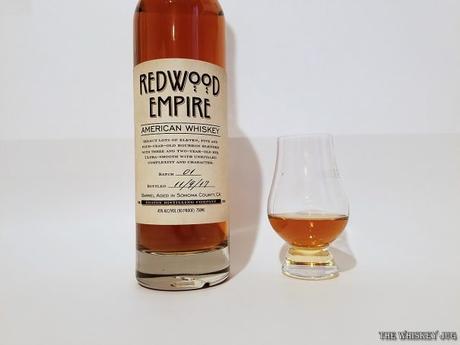 In Graton Distilling's Words: Redwood Empire American Whiskey
"Redwood Empire was established with a commitment to craft distinctive whiskeys inspired by the rugged landscape of our Northern California home. Our proprietary blend of house-distilled rye whiskey includes mature stocks of four, five and eleven-year-old bourbon aged in classic, high char American oak casks. Portions of the rye are aged in used port and wine barrels for unique blending components."
Redwood Empire American Whiskey price, ABV, age and other details
Region: California, USA Distiller: Graton Distilling Blend: 40% Bourbon (11 years, 5 years and 4 years), 60% Rye (3 years and 2 years) Cask: New Charred Oak and Port Age: 2 years ABV: 45% Batch: 1 Bottled: 11/9/17 Price: $45*
Redwood Empire American Whiskey Tasting Notes
EYE
Ruddy caramel
NOSE
Young oak, caramel, cocoa, vanilla, fruit, spice and a bit of peanuts and citrus.
PALATE
Cinnamon oil, peanuts, fruit, cocoa, caramel, vanilla, young oak and a bit of menthol and an herbal quality.
FINISH
Medium -> Young oak, peanuts, cinnamon, citrus and grain.
BALANCE, BODY & FEEL
Ok balance, medium body with a feel that's a bit rough and raw.
Redwood Empire American Whiskey Review – OVERALL
Not bad, but not amazing and overall the Redwood Empire American Whiskey comes across as both young and old at the same time. The youthful fruity notes come from the 2 and 3 year rye which I assumed (and later confirmed) to make up the bulk of the whiskey. At first these youthful notes are all that are available to the senses, but give it a few minutes and it gets more interesting. After a few minutes, it's easy to pick up some older oak-driven bourbon notes underneath the young craft notes. Once these arrive it gives the whiskey more depth and dimension. That combination of tannic oaky bourbon and young craft rye gives it a quality that is interesting on its own, but becomes dynamite in a cocktail.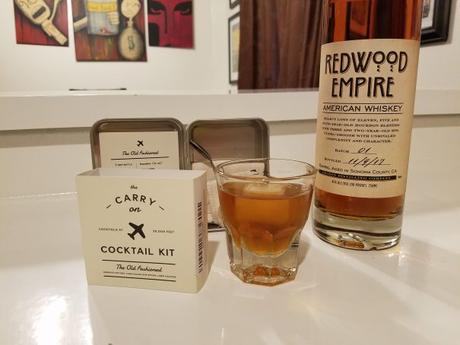 On a recent flight I made a couple Old Fashioneds at 30,000 feet and had a "tasteoff" somewhere over Colorado. I made one with the Old Overholt Bonded, one with the Blood Oath Vol 4, one with this and one with Jack Daniels. The Redwood Empire American Whiskey won hands down with the OOB hitting second, the BOv4 taking the bronze and the Jack Daniels I had to order to get two cups and some ice a solid 4th. In fact, the Redwood Empire American Whiskey one was so good that I recreated it back at sea level and was blown away by how good it was. It's the best cocktail I've ever had at 30,000 feet and among the better ones I've made at home, it's a fantastic cocktail whiskey. Also, those
Carry On Cocktail Kits
are pretty rad; worth checking out if you wanna upgrade your in-flight drinking.
SCORE
: 84/100 (B)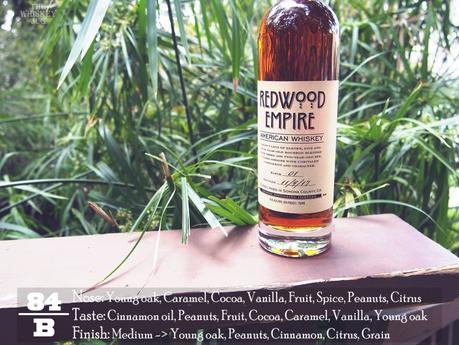 Redwood Empire American Whiskey Review - Score Breakdown
Nose -

84

Palate -

84

Finish -

84

Balance, Body & Feel -

84
84
Redwood Empire American Whiskey Review Summary
Redwood Empire American Whiskey is nice. It's not stunning, but holy heck does it make a great cocktail. If they bottled this at 50% and it came in around $40 it could easily become an essential cocktail whiskey.
'