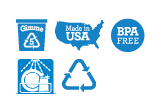 "Reduce, Reuse, Recycle" is a mantra that is familiar to us all. These three Rs also make up the core mission of Certified B Corp Preserve in a very real way. Probably best known for recycling Stonyfield yogurt cups into toothbrushes, Preserve uses recycling in innovative ways to encourage a reduction of waste, promote the reuse of products and make it easy for people to give their plastics new life. How? Preserve takes number 5 recycled plastics and transforms them into a line of toothbrushes, tableware, kitchenware, and more.
Preserve bases their work around their Gimme 5 program. Gimme 5 donation bins are located at Whole Foods and co-ops across the nation to collect any type 5 recyclable plastics. These include yogurt cups, Brita parts, and plastics from Toms of Maine products. The company then melts them down to make their products. The program makes environmentalism easy, increases options for corporations in recycling their products, and shows that recyclables can be put to practical use. The core message – "Donate a cup, buy a product made out of cup, and reuse it for as long as you can." Sound like a good deal for people and the environment.
Preserve has even partnered with fellow B Corp Recyclebank to incorporate redeemable points for recycling into the Gimme 5 program. All you have to do is find a Gimme 5 recycling receptacle (there is one at most Whole Foods), donate your plastics and record it on Recyclebank via the phone app or your computer. You then then earn points which can be redeemed as a discount for Preserve products. You supply the plastic, you get a discount; it makes sense. You can read more about that innovative partnership here.
Preserve also encourages reuse through their line of  "on the go" picnic ware, which is built stand up to thousands of washings and long-term use. The biggest influence on effecting positive environmental change for Preserve then comes from influencing use or rather reuse. They encourage reuse and then make it easy and inexpensive to do.
Thinking about the mantras of 'People, Planet, Profit" and "Reduce, Reuse, Recycle" was a part of Preserve's core mission from the beginning, but Preserve felt that B Certification formalized their practices. Certification made their values a part of their long term mission.  The B Corp is focused on proving that the recycling infrastructure can be used to effect positive change and making it easy for you to be a part of the process. As they look into the future, Preserve hopes to increase engagement with consumers and work on building the Preserve community.
Find out more about how you can become a part of effecting environmental change through closed loop recycling and better know Preserve.