Whether getting ready for work or preparing to go to sleep, the bathroom is a place where people don't want to waste time. Organization plays a big role here and the bathroom vanity offers a lot of space for keeping everything easily accessible. Vanities can provide space for under sink storage or separate drawers and cabinets. You don't need to spend a lot of money or time to get organized, just a little can go a long way. Even for couples that share a single vanity, there are easy ways to organize a vanity and save time in the bathroom.
Remove Unnecessary Items
We tend to use the bathroom vanity as storage space for the most random stuff that is never used. Not a good idea once it all starts piling up and suddenly finding a tooth brush becomes a never ending quest. Throw away or remove items that aren't used regularly or don't have any business in the bathroom. Keep only what is required for the daily bathroom routine.
Evaluate Your Options
Take everything out of the vanity, including the drawers and side cabinets. This will help you get an idea of the amount of space to work with and what type of organization options would be most appropriate. A plan of attack, if you will. A vanity that has a lot of vertical space would benefit from vertical storage options. If there are no drawers, it will be necessary to figure out a way to group items together.
Separate by Group and Priority
Of course it is a good idea to group similar items together but it's also equally important to group items by priority. People have many types of hair or skin care products but they only have one or two that are used daily. Organize items together by group but also pay attention to what needs to be easily accessible. Perhaps it would be a good idea to have separate bins for morning and evening, grouping the most used items for each time of day.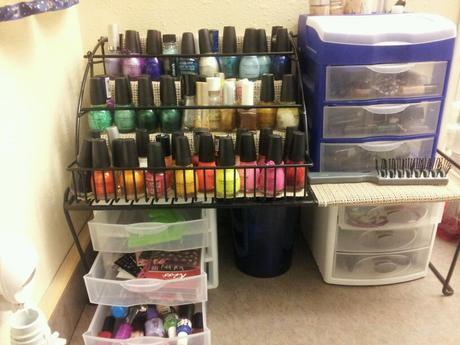 Containers, Bins, and Drawers
This step doesn't require spending a lot of money, there are many frugal options that are just as practical as anything else out there. A quick trip to the 99 cent store can lead to everything you need for organizing a bathroom vanity. Stackable bins and small plastic cabinets with pull out drawers are very useful and will hold up over time in a humid bathroom environment. Consider labeling drawers and bins by group so items are easy to find at a glance. Gallon size freezer bags by Ziploc are great for grouping small items such as makeup and make it easy to see what is inside.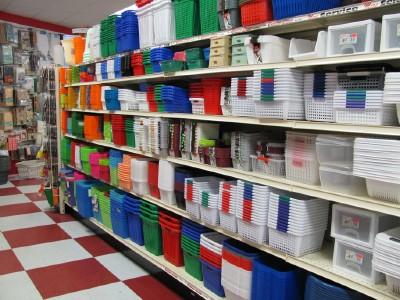 via orgjunkie
Cleaning Bucket
Keep all your bathroom cleaning products in one place with a medium to large size bucket. With everything inside the bucket, all you need to do is pull out the bucket when it's time to clean. Everything you need will be there. This is better than having to reach to the back of the vanity and dig around for the bleach.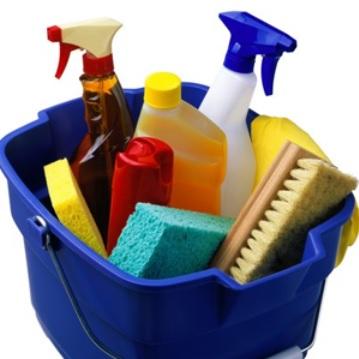 via Flickr
Clear the Vanity Countertop
Countertop space is important for the daily bathroom routine. Having a cluttered countertop makes it harder to get things done quickly. Keep everything off the countertop except for what is absolutely necessary, such as soap and kleenex. Don't leave things lying around for the sake of convenience. Make it a habit to put things back in their place after using them.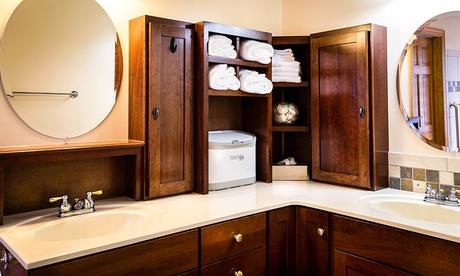 via Pixabay
Hooks on Cabinet Doors
Cheap and easy to install plastic hooks from 3M work wonders for organization in the bathroom. Place them on the back of cabinet drawers or alongside the inner walls of the vanity to conveniently hang items such as loofahs and makeup bags. They don't damage the surface and can be easily removed when it is time.
Life is hectic enough without having to stress out every time we use the bathroom. The bathroom should be a relaxing experience and good organization helps make that possible. Don't be intimidated by the looks of your bathroom vanity, conquer the clutter by following these tips for getting organized. If you have more tips to share, please do so in the comments! We would love to hear them.
If a single vanity just doesn't cut it anymore, consider a double sink vanity such as the Lune Double Vessel Sink Vanity by JWH Living. It features space saving vessel sinks and plenty of drawer and cabinet space. It can even be accompanied with additional side cabinets for even more storage. The Begonia Double Sink Vanity features an open shelf that opens up a variety of storage options.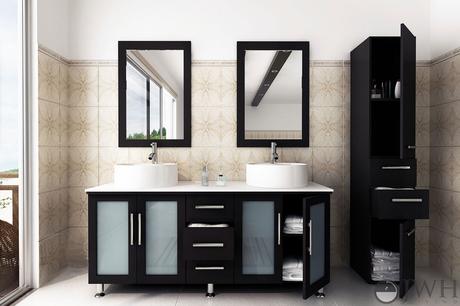 Lune Double Vessel Sink Vanity – Espresso Finish
About the Author
Cheryl Khan is a regular contributor to the Trade Winds Imports Blog. Her pet peeve is a messy bathroom and is always on the lookout for bathroom organizing ideas.