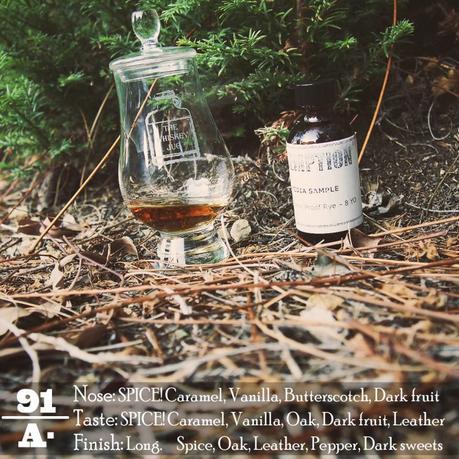 Redemption Barrel Proof Rye is… well, you know what. I'll just let the brand tell you because they actually do a great job here.
"Redemption Rye whiskey is a true American original from the award-winning Deutsch Family of Wine & Spirits. It's carefully hand-crafted in the river town of Lawrenceburg, Indiana at 168-year-old MGP Distillery – Whisky Advocate's 2015 Distiller of the Year. Redemption Rye perfectly captures the spicer and drier flavor of a rye that was the preferred whiskey of the saloon era and was hugely popular until prohibition. It's a taste of the bold, robust spirit cherished throughout America's early history. Redemption Rye is perfect neat and excels in any cocktail. Big, spicy notes shine through in a Manhattan or Old Fashioned without overpowering the drink. It's carefully made in small batches for those who appreciate a nod to the past but have a taste for what's new."
Sure it's a bit wordy, but damn it's refreshing to see the honesty of its sourcing right there in black and white. Full disclosure and a tasty product too. Makes you wonder why it's so hard for others to do the same thing doesn't it? On to the Redemption Barrel Proof Rye review.
Redemption Barrel Proof Rye Info
Region: Indiana, USA
Distiller: MGP
Bottler: Redemption
Mashbill: 95% Rye and 5% Malted Barley
Cask: new-charred oak
Age: 8 Years
ABV: 55.3%
Cask Strength | Non-Chill Filtered | Natural Color
Price: $100
Redemption Barrel Proof Rye Review
EYE
Ruddy caramel
NOSE
Complex spice bomb (dill, anise, allspice, cinnamon, clove, nutmeg, etc.) that gets balanced out with sweet notes of caramel, vanilla, butterscotch and dark fruit. Further balance and complexity is brought in by earthier notes of oak and leather. Water kicks up a bit of waxy licorice and evens things out even more.
PALATE
The taste is nearly identical to the aroma with a complex dilly spice bomb leading the way followed by sweet and earthy notes of caramel, vanilla, oak, dark fruit, leather, and butterscotch. Water brings out some waxy licorice on the palate along with a bit of toasted coconut. Great stuff.
FINISH
Long and spice driven with notes of oak, leather, pepper and dark sweets.
BALANCE, BODY & FEEL
Well balanced, it has a full body and a soft oily feel that carries an appropriate amount of heat for its 122.2 proof.
OVERALL
Redemption Barrel Proof Rye is the kind of dill-centric, spice driven, but balanced rye we've come to expect from MGP. The 8 years of age and full proof, non-chill filtered, delivery is fantastic and brings with it a bouquet of spices and sweets. This is the kind of presentation this 95% rye whiskey needs and deserves.
The only way to make the Redemption Barrel Proof Rye better would be to release it at 10+ years after it's picked up more oak, dark sweets and dark fruit notes. Give it a bit more age and maturity to enhance the woody notes a bit more and it would be incredible. Maybe we'll see that in 2018 – fingers crossed.
SCORE: 91/100 (A-)
*Disclosure: This Redemption Barrel Proof Rye was graciously sent to me by the company for the purposes of this review. The views, opinions, and tasting notes are 100% my own.