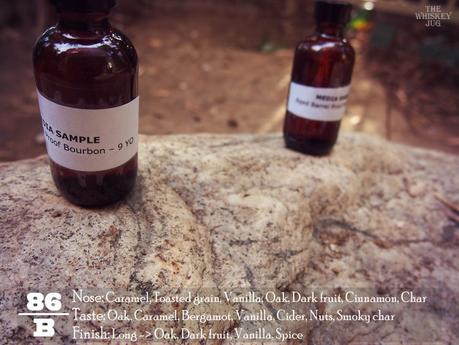 Redemption 9 Year Barrel Proof Bourbon is a sourced MGP whiskey that's been aged for 9 years and bottled at full cask strength / barrel proof. That means there's been no water added and it's in its most unfiltered and unadulterated state outside of sticking your glass straight into the barrel.
In Redemptions's Words: Redemption 9 Year Barrel Proof Bourbon
"Tasting Notes: A smooth, smoked meat and bacon flavor is nuanced by notes of hops, white pepper spice, and wet river stone in this mellow aged bourbon. Fresh Madagascan vanilla pod, caramelized toffee, and dark roast coffee dictate the aroma of this barrel proof expression, while notes of lavender and honey bring a soft, floral scent."
It's a pretty simple backstory, so here we go. On to the Redemption 9 Year Barrel Proof Bourbon review!
Redemption 9 Year Barrel Proof Bourbon Info
Region: Indiana, USA
Distiller: MGP
Bottler: Redemption
Mashbill: Corn 76%, Rye 21%, Malted Barley 4%
Cask: New Charred Oak
Age: 9 Years
ABV: 58.1%
Cask Strength | Non-Chill Filtered | Natural Color
Price: $90*
Redemption 9 Year Barrel Proof Bourbon Review
EYE
Caramel
NOSE
Caramel, toasted grain, vanilla, oak, dark fruit, cinnamon and a touch of smoky char and mint.
PALATE
Oak, caramel, bergamot, vanilla, cider and nuts with a bit of smoky char.
FINISH
Long oaky fade of dark fruit, vanilla and spice.
BALANCE, BODY & FEEL
Ok balance, full body and a dry tannic feel.
OVERALL
Redemption 9 Year Barrel Proof Bourbon tastes and feels like something aged for more than 2x that length. The aroma is incredibly sweet and complex, but the palate, mouthfeel and finish are incredibly oaky, dry and tannic. It's like they snagged barrels that sat at the top of the rick house for their entire 9 years and it ended up cooking the whiskey.
Water helps even it out a wee bit, but it never fully finds a good balance and the oak hangs incredibly heavy except on the nose. I do love me some big oak bombs, but they need to have something to balance against or it starts to become one noted. This has a bit of that balancing sweetness, but it's not enough to fully right the ship and it ends up leaving me wishing for a bit more sweetness. Good, but just not quite… there.
SCORE: 86/100 (B)
*Disclosure: This Redemption 9 Year Barrel Proof Bourbon sample was graciously sent to me by the company for the purposes of this review. The views, opinions, and tasting notes are 100% my own.