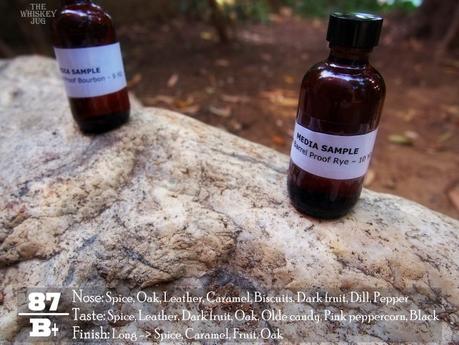 Redemption 10 Year Barrel Proof Rye is not a complicated product to speak about; it's MGP's famous 95/5 rye mash aged for 10 years and delivered without any chill-filtration or water added.
In Redemption's Words: Redemption 10 Year Barrel Proof Rye
"Tasting Notes: On the nose, aromas of dark caramel, molasses, and vanilla settle over unexpected notes of freshly cut grass and a hint of ginger. A spicy rye taste is evolved with flavors of dark chocolate, liquorice, and fennel laced together by herbs such as cardamom, black pepper, and tarragon. A long and mellow finish round out this true expression of rye."
The simplicity and straight-fowardness of this, and other Redemption products, is what I like so much about the brand. No convoluted story, no attempt to make it sound like they distilled it, just straight up sourced MGP whiskey delivered at a not-terrible price. It's hard to ask for much more than that in today's climate; with that on to the Redemption 10 Year Barrel Proof Rye review!
Redemption 10 Year Barrel Proof Rye Info
Region: Indiana, USA
Distiller: MGP
Bottler: Redemption
Mashbill: 95% Rye, 5% Malted Barley
Cask: New Charred Oak
Age: 10 Years
ABV: 58.1%
Cask Strength | Non-Chill Filtered | Natural Color
Price: $90*
Redemption 10 Year Barrel Proof Rye Review
EYE
Mahogany
NOSE
Spice, oak, leather, caramel, biscuits, dark fruit and a bit of dill and pepper. Water brings out bits of honey candy and enhances the dill a bit.
PALATE
Spice, leather, dark fruit, oak, olde candy, pink peppercorns and bits of black tea and butter. Water makes the oak and dill a bit more prevalent and enhances the sweetness.
FINISH
Long dry fade of spice, caramel, fruit and oak.
BALANCE, BODY & FEEL
Good balance, full body and a heavy oily feel.
OVERALL
Redemption 10 Year Barrel Proof Rye is decent, but it doesn't have the oaky kick something this old and uncut should have and makes me wonder what part of the rickhouse the barrels came from. Water does little to enhance much more than the sweetness across the aroma and palate.
Age stated rye, especially double-digit, is getting harder and harder to come by these days; add triple-digit proof to the equation and the Redemption 10 Year Barrel Proof Rye ends up being something of a unicorn in the current market. It's a solid sipping rye and if you're a rye lover this might be one for you to check out.
SCORE: 87/100 (B+)
*Disclosure: This Redemption 10 Year Barrel Proof Rye sample was graciously sent to me by the company for the purposes of this review. The views, opinions, and tasting notes are 100% my own.