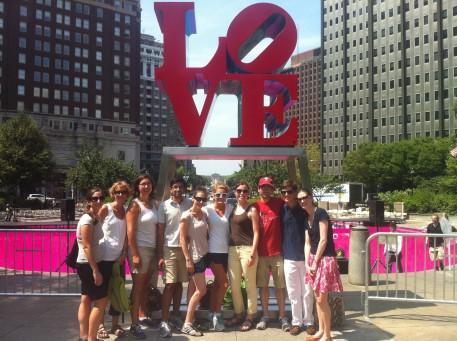 The B Lab team with our docent, Julie, in front of the LOVE statue.
Last Friday, the B Lab Philly team enjoyed trekking around Center City Philadelphia on one of (newly certified) Context Travel's Philadelphia walking tours—or, as they call them, "walking seminars." Context Travel is based on the fundamental belief that "Knowledge is power" – the power to know more about the place you visit, the people who live there, and how to be a positive force during your stay. The company began with a simple goal, to connect intellectually curious travelers with those who best know the places they are visiting.
Context docent, Julie, led our public art-themed walking seminar. With an extensive academic background in Philadelphia's public art, she brought, not only a wealth of information, but a passion for learning and sharing. The walk felt more like a one-to-one conversation tailored to our interests and set to our own pace. A group highlight was our detour into the Rodin museum, which, many of us Philly natives didn't even know existed. The group was small enough that our change in plans had little effect on the experience of others visiting the museum and our walk was flexible enough to allow for a little adventure. By the end of our trip, we all had a better understanding of what it means to do tourism differently.
At the core of Context's mission is a sentiment familiar to all B Corps, 'Let's go to the root of a problem and transform it into something beneficial.' While living in Rome, founders Paul Bennett and Lani Bevacqua saw first hand the negative impact large scale tourism can have on a city. Tourism had become something for the masses and those masses were choking the city's culture. Meanwhile scholars and professionals studying archaeology, architecture, art, and history were looking for ways to support themselves while pursuing their studies. Paul and Lani decided to connect the dots and brought together these specialists, or 'docents', and travelers for a meaningful learning experience.
Context Travel continuously looks at the bigger picture of their impact on the planet and cities. They work with organizations such as Sustainable Travel International and offset all of their carbon use, a significant problem in the travel industry. Context Travel also equips their docents with information about local restaurants, businesses, public transportation, and more to help travelers continue to be beneficial tourists. This way the real vibrancy of the city can flourish.
Since their beginnings in Rome, Context Travel has grown to include 15 cities throughout Europe and America. They plan to nearly double their cities over the next two years and expand to Asia. Bennett and Bevaqua saw B Corporation Certification as a great way to ensure that their company keeps using the power of tourism for good. Bennett states,"We saw benefit immediately, even in the process of certification." The assessment provided the tools and resources needed to improve and grow. By measuring and assessing impact as they expand, Context Travel will continue to redefine tourism and foster good growth in cities around the world.
Thank you Julia and Context Travel for a great time. To learn more or plan your trip, Better Know Context Travel.