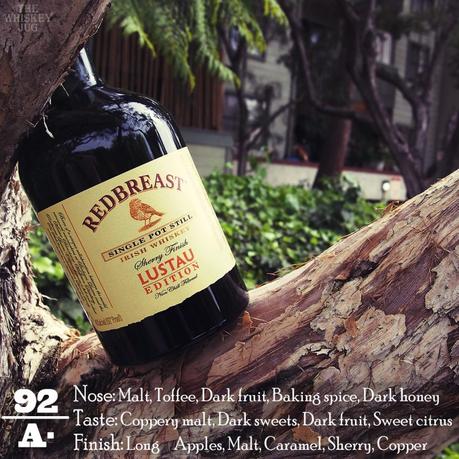 Redbreast Lustau is the latest release from Redbreast and it brings with it something new and different. Aged for a total of 10 years it's the youngest release of the Redbreast line, yet it's not something to sneeze at because one full year of that aging happens in a sherry cask.
In Midleton's Words: Redbreast Lustau
"The newest addition to the Redbreast family, Redbreast Sherry Finish Lustau Edition offers fans a new way to experience our signature sherry taste, thanks to an old friendship. Born of a unique collaboration between the Bodegas Lustau and the Midleton Distillery, Redbreast Sherry Finish Lustau Edition is initially matured in traditional bourbon and sherry casks for a period of 9-12 years. It is then finished for 1 additional year in first fill hand selected sherry butts that have been seasoned with the finest Oloroso sherry from the prestigious Bodegas Lustau in Jerez. We are confident Redbreast fans will enjoy this new angle on Redbreast's beloved sherry character."
Most of the time when you read about a "finishing" it's only done for a few months at most so it's a it on the rare side to see distillers run a finish for this long these days. Lately a finishing seems to be about 3 months at most so to see it done for a full year is simply astounding. I would love to see this show up more and more in the world; a good solid finishing. Now on to the Redbreast Lustau review!
Redbreast Lustau Info
Region: Ireland
Distiller: Midleton
Mashbill: Malted & un-Malted barley
Cask: ex-Bourbon & ex-Sherry
Age: NAS (10 years)
ABV:
Non-Chill Filtered | Natural Color
Price: $65
Redbreast Lustau Review
EYE
Copper
NOSE
Malt, creamy toffee, rich dark fruit, complex baking spice, dark honey, butterscotch, hazelnuts, creme brûlée and a light bit of anise. Rich and velvety the aroma is quite alluring.
PALATE
Coppery malt, dark sweets, dark fruit, candied citrus, creamy vanilla pudding, hazelnuts, figs, orchard fruit and a touch of spice. The palate is even richer and heavier than the aroma.
FINISH
Long slow drawl of apples malt, caramel, sherry and copper that fades out to a lemony dark fruit leather.
BALANCE, BODY & FEEL
Great sense of balance, full rich body and a heavy oily feel.
OVERALL
To put it simply the Redbreast Lustau is THE whiskey I wanted to drink all of March, where I only drink Irish Whiskey while at home, and in the two weeks after I bought it drank over 1/2 of it. It's a seriously good whiskey and for only $65-$70 it's a killer deal in the Single Pot Still / Irish Whiskey category.
Redbreast Lustau is rich, dense, buttery/oily and complex. While the aroma doesn't have much of a sherry influence it's still fruity, malty, rich and full. The palate on the other hand has a lot more of the sherry influence and brings even more richness and depth to an already inviting aroma –  it puts a nice bow on the whole thing. If you haven't had this yet get on it!
SCORE: 92/100 (A-)