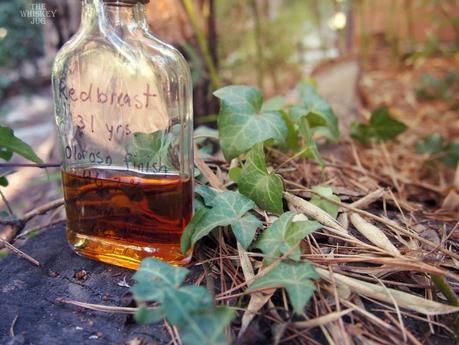 Redbreast 31 years "The Dream Cask" was distilled on October 31st 1985. When this magical elixir was being created at Midleton I was 4 years old, dressed as a robot and running around a small farming neighborhood in Utah trying to get as much candy as I could into a plastic pumpkin. Fast forward a little over 25 years and I would be living in Los Angeles, working at a marketing agency by day, writing a whiskey blog by night and would get married to the love of my life while the folks at Midleton were transferring the Halloween spirit into an ex-sherry butt.
In 2011 it was re-casked into a 1st fill Bodega Lustauex-Oloroso Sherry butt (#41207) at 48.3% ABV and there it sat for a further 6 years… a 6 YEAR finishing. Though its story doesn't end there. In 2013 it was tapped to be blended into a Redbreast 21 release, but their master blender Billy Leighton tasted this cask, found something special in it and set it aside; while he made that decision I was making media decisions for Constellation Beverages as my day job.
Fast forward a bit more to 2017 and I would still be living in Los Angeles, though now divorced, and working for one of the largest publishers on the internet when Redbreast released this, Redbreast 31 years "The Dream Cask". It was released as a PR cask involved in a live tasting with Billy, via FB Live, which I have to say was a highlight of 2017 for me. I sampled the bare minimum to participate and held onto the sample to drink during March of 2018, where we find ourselves now, for Irish Whiskey month. What a journey from Halloween of 1985.
Whiskey Review: Redbreast 31 years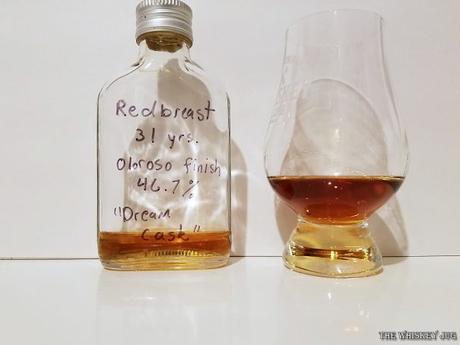 In Redbreast's Words: Redbreast 31 years
"#RedbreastDreamCask is a single cask single pot still Irish whiskey that offers a unique take on Redbreast's full bodied flavor profile, renowned for its signature Christmas cake character – the result of a strong contribution from Oloroso sherry casks. This mystery single cask is destined to be blended into the decorated Redbreast family, but not before its secrets are revealed by Billy and Dave on World Whisky Day."
Redbreast 31 years price, ABV, age and other details
Region: Ireland
Distiller: Midleton (Jameson)
Mash Bill: Malted and un-malted barley
Cask: ex-Bourbon (25 years) and ex-Sherry (6 years)
Age: 31 Years (10/31/1985 – 2017
ABV: 46.7%
Cask Strength | Non-Chill Filtered | Natural Color
Batch: "The Dream Cask"
Cask: 41207
Price: NA – Was a PR release only
Redbreast 31 years Tasting Notes
EYE
Drying blood
NOSE
Heavy sherry, juicy dark fruit, cinnamon, nutmeg, roasted malt, cocoa, copper, malt, Smarties and some lemon peel.
PALATE
Heavy sherry, dark fruit, cocoa, complex baking spice (aka "Christmas Cake"), copper, malt, roasty notes and some lemon peel.
FINISH
Long -> Dark fruit, sherry, malt and cocoa.
BALANCE, BODY & FEEL
Perfectly balanced, round full body and a heavy oily feel.
Redbreast 31 years Review – OVERALL
This Redbreast 31 years single cask is rich, dense, delicious and intense; there isn't a better name for it than "The Dream Cask". As it sits layers keep opening up and new elements seem to arrive with every sip and sniff. Both the aroma and the palate come through has heavy, dark, elegant and fulfilling. The aroma carries a juiciness to it that turns velvety on the palate and oily through the finish.
Besides being an utterly amazing sensory experience this whiskey is incredibly fascinating to me on a personal level. It was distilled on Halloween day 1985 when a young robot, who would grow up to drink it and write about it, was out trick-or-treating.
In subsequent the years pivotal changes and decisions about it were made in during pivotal years of my life. Unlikely on the same days, but it's still interesting. This is why whiskey geeks like getting all the gory details about what we drink. It matters not just because we like to know what we're drinking, but because we like knowing how it pertains to us. I wish I had more of this Redbreast 31 years "The Dream Cask" for both the taste and what it represents.
SCORE: 95/100 (A)