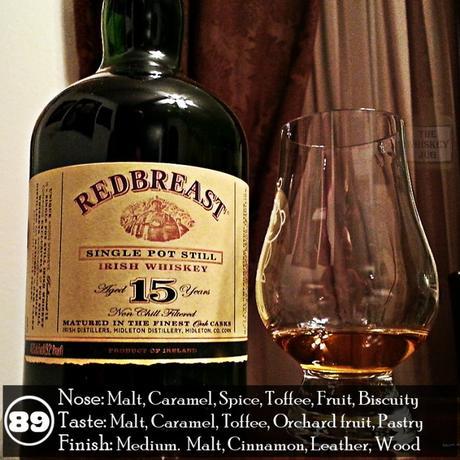 Like the 12, the Redbreast 15 is a single pot still whiskey which means it uses both malted and unmalted barley in it's mash. This process is unique to Ireland and gives Irish whiskey that signature spicy, coppery, sweet, malty and rich pot still character that the world is currently falling in love with all over again. Though for those of us who have been Irish Whiskey fans all along, we never fell out of love in the first place.
In addition to being 3 years older than the 12, the 15 is also non-chill filtered. I love that because it means the whiskey still has all of those wonderful oils left intact which not only adds to the flavor of the whiskey, but also gives the whiskey a smoother and richer texture. It also means that it will cloud when chilled, but why would you hide something this good in the freezer anyways?
Redbreast 15 years Review
Distiller: Irish Distillers (New Midleton)
ABV: 46%
Age: 15 years
Price: $65
Single Pot Still
Non-chill filtered
Natural Color
EYE
Apple juice
NOSE
Malt comes first with notes of caramel, spice and toffee. A light fruit dances with some warm biscuity notes in the back. There is a bit of an alcohol bite in the nostrils from this one and a light metallic note that adds an interesting dimension to this whiskey.
PALATE
Malt, caramel, toffee and orchard fruit all run out of the glass and onto the palate with reckless abandon and are soon followed by notes of fresh pastries, grass and wood. A mild savory spice stitches it's way through the palate adding another interesting dimension to this dram.
FINISH
Medium in length and filled with malt, cinnamon, leather and wood.
BALANCE, BODY & FEEL
Effortlessly balanced with a full body, deep rich character and a soft oily texture.
OVERALL
I like Redbreast 15 years quite a bit. There is a freshness to the nose that's both refreshing and invigorating; the palate is warm, sweet without being overbearing; the finish is long and pleasant. The experience of drinking it is enjoyable and It's one of those whiskies I could drink everyday and never get bored with. Seriously great stuff for Irish Whiskey fans, but I like the 12 year a bit more and is what I end up buying 99% of the time.
SCORE: 89/100