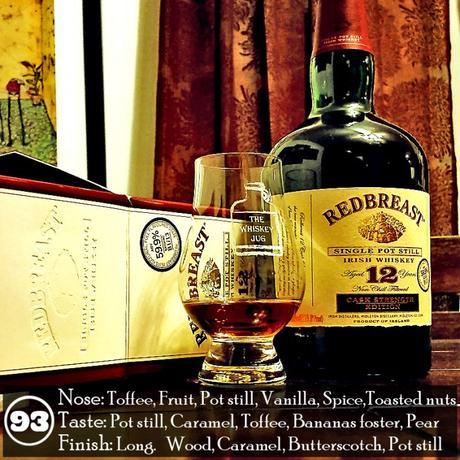 Redbreast 12 years Cask Strength is nothing more than the full, un-cut version of the Redbreast 12 and that right there is fantastic. It's basically taking something that is already phenomenal and turning it up 11. The only way it could possibly get better is if it was the ungodly amazing RB21 being delivered at CS, but let's not greedy.
Midleton describes Single Pot Still whiskey as being "fuller and deeper in flavor than most and possesses a distinctive, creamy mouthfeel" which is beautifully displayed in this full bodied and uncut expression. To top it all off they don't subject the whiskey to chill filtration thus retaining all of the oils that get stripped out during that process. Nor do they taint the whiskey with e150 caramel coloring so you're getting this almost as natural as it can possibly be.
Redbreast 12 years Cask Strength Review
Distiller: Middleton
Age: 12 years
ABV: 59.9%
Price: $60*
Cask Strength
Non-Chill Filtered
Natural Color
EYE
Amber
NOSE
Sweet buttery toffee, fruit and that malty coppery pot still character come first followed by pleasant notes of vanilla, bourbon-like spice, toasted nuts and a light bit of hay. Add some water and hints of butterscotch, dried apricots, buttery pastry and brown sugar appear. This is a wildly complex nose.
PALATE
Malty coppery pot still floods the palate and creates a flavorful surface for caramel, toffee, bananas foster, light pear and Almond Roca. It's warm and flavorful, but add some water and it all kicks up a notch with notes of dried apricots, brown sugar, hay and spice coming to the party.
FINISH
Long and lightly wood finish of caramel, butterscotch and that lovely single pot still character.
BALANCE, BODY & FEEL
Perfectly balanced with a round thick body and a heavy oily texture.
OVERALL
Redbreast 12 years Cask Strength is phenomenal. I'm an Irish whiskey fan through and through and not only is this a fantastic example of a truly lovely Single Pot Still Whiskey, but it's delivered in all it's glory at full cask strength, non-chill filtered and at natural color. It's hard to get better than this when it comes to Irish Whiskey. Sweet complex aroma and flavor all bundled up in a malty coppery single pot still character… why the hell am I still typing? I need to go pour myself another glass!
SCORE: 93/100
*Disclosure: This bottle of Redbreast 12 years Cask Strength was graciously sent to me by the company for the purposes of this review. The views, opinions, and tasting notes are 100% my own.