With Valentines Day coming up, T.G.S. Cupcakery is preparing for orders and rolling out a new cupcake flavor! This morning, I experimented with a Red Hot Cream Cheese Cupcake, and cannot wait to hear if people like it! That means if you live in the Wichita Falls area, head to T.G.S. Cupcakery for a free mini, like NOW!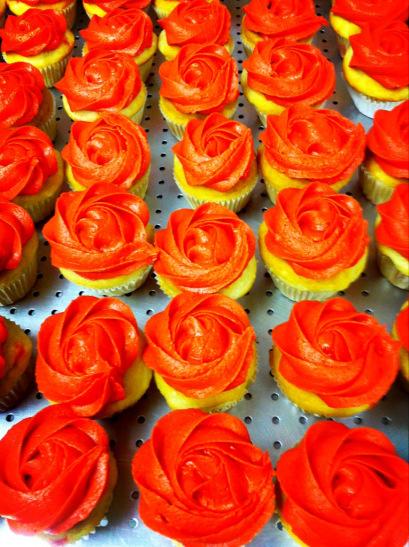 We make all of our cupcakes from scratch, but if you are looking for an easy cake mix recipe scroll down to the bottom of the page.
Fitness Plans
Today kicks off week 4 of half marathon training! The Colorado Colfax Half Marathon is now 14 weeks away, which may seem like a long time, but I know it will go by quick! This weeks agenda looks like this: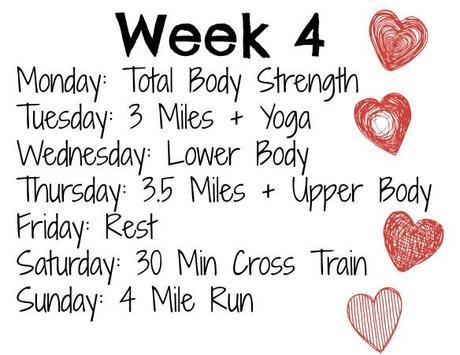 Today I am going to do a repeat of my 10 rounds in 10 workout! Plus a three minute abs circuit.
3 Minute Abs
30 Second Russian Twists
30 Second Plank
30 Second Hold the World
30 Second Plank
30 Second Bycicle
30 Second Plank
Red Hot Cream Cheese Cupcakes

Cupcake Ingredients
1 Box White Cake Mix (and the ingredients the box calls for)
8 oz Softened Cream Cheese
1/2 Cup Red Hot Candies
Method:
Mix cream cheese and cake mix with a mixer
Once blended add eggs and other ingredients call for on the box.
Continue to mix on low until all ingredients are blended together.
Bake as directed.
Red Hot Cream Cheese Frosting
Ingredients
Any Cream Cheese Frosting
1/2 cup Red Hots
Red Food Coloring
Method
Crush Red Hots into tiny piecses
With a mixer mix Red Hots, Cream Cheese Icing and Food Coloring
When the frosting is completely mixed together, frost cooled cupcakes!
Enjoy!
Superbowl Commercials
Like many people, I like the Superbowl for the commercials, and I would have to agree with the majority that the Farmers commercial was the bomb! If you missed the Superbowl commercials last night, don't worry! You can catch all the commercials and even rate them by clicking this NFL Superbowl Commercials Link.
Here is my favorite: