Such a pleasing color combination, red and green. It's not just the looming festive season which makes me like red and green so much, it's a 24/7/365 thing. Just like the combo, and this morning I pulled out a couple of delicious looking red/green eating teams which have got to that enticing 'eat me now when I'm not so big' stage.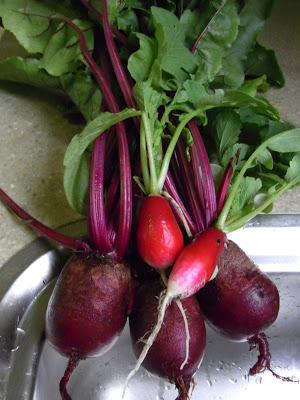 Beetroot and radishes.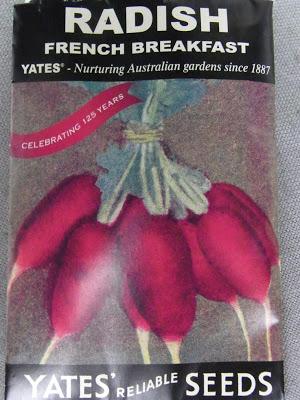 Not that I am much of a radish eater, actually,
but free seeds are free seeds, and these came
as part of a lovely Yates 125th Anniversary
tin filled with Heritage Seeds. I was so taken
by the lovely seed packet that I thought: "Better
give them a go." And just a few weeks later,
radishes being radishes, they were ready to eat.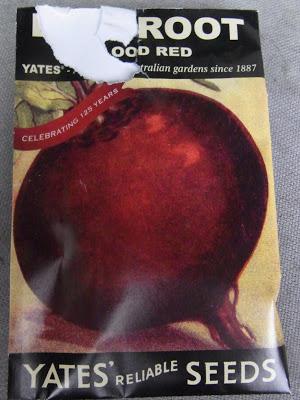 From the same seed tin, I also planted out a
few beetroot seeds. They're definitely not
called "ood red", the hot bet would of course
be "Blood Red" but as a 10-1 outsider maybe
it's actually "Good Red", but as I have lost
the top part of the packet I don't know for sure.
As for what I'll do with my radishes and beetroot, I am afraid that underwhelming boredom is all I have to offer on the radish front: sliced finely into a garden salad.
As for the beetroot, I am rather taken with them as part of a salad, too. First roast or boil, cut into dice, then start the salad making. I'm thinking cubes of real Greek feta cheese in there with the beetroot cubes, a mixture of different salad leaves, simple vinagrette of extra-virgin olive oil and white wine vinegar (3:1), maybe some dried oregano? Search the cupboards... pine nuts.. toast and toss a few. Cracked pepper of course. Something like that is what's in store for them. 
Must delve into that heritage seed tin some more and have some fun. I can see apple shaped cucumbers and stout leeks looking up at me, begging to be planted... maybe they're next? But in the meantime there's space for some more radishes and beetroot, so more of them, too. Must remember to soak the beetroot seeds before sowing, that worked a treat. As for the radishes, just sow them and stand back.
Love growing vegies!