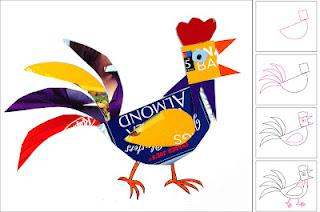 Save all those clean packing boxes, such as for cereal and pasta, and you can make some really colorful collage roosters. For a lead in story, "Farmyard Beat" is perfect and actually the inspiration for this project.
1. I guessed most kinder and 1st graders would have trouble drawing large sizes for this, so I made templates for them to trace. They just need three main shapes to get started: a half circle body, square head and curvy feather. Students traced the shapes on the back of opened boxes, and were surprised to see what colors showed up on the top when they were done. Small shapes like the beak, comb and wing were hand drawn and cut out.
2. After all the shapes were cut, they could be arranged as desired on a large sheet of paper and attached with a glue stick.
3. Lastly, the legs were drawn and colored with a marker, as was the inside of the eye.