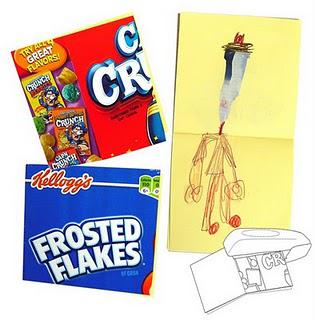 This is good for Earth Day or anytime you wish to make a recycling project. I've started to save cereal and pasta boxes all year round so that I have a good stash whenever I need one.


1. For a kindergarten class, I took clean cardboard boxes (like cereal or pasta) opened them up to lie flat, and cut them on the fold to a 3.5" wide x 5" tall rectangle using a paper cutter. Cut on an edge that already folds flat so that the "book" opens to a 7" x 5" size.
2. Take any old leftover paper blank paper, fold it and cut to the same dimension as the cardboard.
3. Place the blank paper inside the cardboard and staple at least twice on the outside of the spine so that the sharp points of the staples are hidden on the inside.
4. NOW, you can give these to kids and have them do any number of activities, including making "nonsense" collage drawings as shown. Older student such as 3rd to 5th could staple the books together. And if you are able to get one of those extended staplers, you can make books that are much larger.