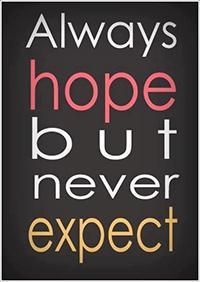 This is for all of us. Medical practitioners, carers and sufferers. We all have expectations of what recovery is, how long it will take and whether the other party is living up to the expectations.
I don't know of any other illness that has such a high level of expectations wrapped around it. Eating disorders though, seem to garner expectations in all areas. In the end it becomes a burden and guilt trip for all involved. A journey too hard to begin or continue.
Carers want to know:
why aren't you over this yet
your the right weight now, what's wrong with you
should you be eating that
you should be getting on with your life
I spent so much time and money on this, the least you could do is be grateful and respond appropriately
Sufferers wonder:
how can I live up to recovery ideals
how do I cope with the meal plan expectations
I can't do that
they say I should be this, but I am so far behind
am I a fraud or a failure
Medical practitioners expect:
meal plans followed
medication taken
constant forward progress
getting well or moving on
changing your thinking pattern from negative to positive
I am sure everyone can add to all of these lists (I have only skimmed the surface). All expectations do is place frustration and pain on each party, block communication, and enable bad behavior. It also brings denial, lying, blocking, and backward slipping. Expectations set up failure. There are no set benchmarks nor a definite time scale to work to.
Hope on the other hand and genuine understanding of the eating disorders encourages success. Real time understanding balanced with personality and individuality.