Tenor Bryan Hymel revives the French heroic tenor repertory.
by
Paul J. Pelkonen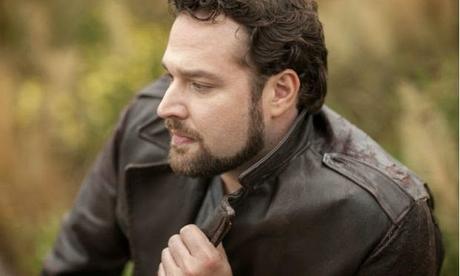 Tenor Bryan Hymel.
Photo by Dario Acosta © 2015 Warner Classics.
With his new disc,
Héroïque, 
New Orleans-born tenor
Bryan Hymel
has drawn off his dueling glove and slapped doubters in the face. Readers of this blog may remember Mr. Hymel from his heroic effort as a replacement Enée in
Les Troyens
at the Metropolitan Opera on Dec. 26, 2013. That performance in the six-hour five-act Berlioz epic put the spotlight squarely on this young tenor from the South. This first recital disc (released last month on Warner Classics) is more than a labor of love, it is a chance to hear a budding major artist doing what he does best: sing murderously difficult stuff with aplomb, panache and great beauty of tone.
Mr. Hymel (accompanied by the Prague Symphony Orchestra under the direction of Emmanuel Villaume) throw the listener in at the deep end with "Ne m'abandonne point... Asile héréditaire... Amis, amis secondez ma vengeance" the Act IV monologue, aria and
cabaletta
whose difficulty have single-handedly kept Rossini's final opera
Guillaume Tell
out of the standard repertory. Mr. Hymel shows intelligence and reflection behind every French syllable, and introduces warm and burnished quality of his middle register and first glowing high C. Things turn thrilling in the final fast section, liberated from its position of sitting four hours into an already exhausting opera. The
cabaletta
is flawless and simply electric.
The tone goes from heroic to reflective with Faust's "Nature immense" from Berlioz'
La Damnation ode Faust
, a "dramatic legend" that like its protagonist is condemned by its creator to wander between the opera house and the more traditional concert performance. Mr. Hymel takes on the Goethe-inspired text with the fervor and intensity of a
lieder
singer, delivering a stylish performance that still captures the crisis in Faust's damned soul. His pleas to nature and self-torment are audible, again underpinned by the tenor's close attention to the text.
Verdi is featured too with two arias from
Jérusalem
(his re-hash of
I Lombardi
) and
Les vêpres siciliennes
, the composer's first two (failed) attempts to find favor on the stage of the Opera Paris. The latter (with its ominous building chords) is particularly exciting, with Mr. Hymel riding the burst of tension built up in the opening to violent release in the final
cabaletta
. Then:
Inutiles regrets
, Enée's aria from the aforementioned
Les Troyens
, is given bold underpinning from Mr. Villaume and the orchestra, Mr. Hymel room to fly into the demanding upper register required at its climax.
The most thrilling performance here is "O paradis" from Meyerbeer's
L'Africaine
, that composer's final and most over-the-top grand opera. Mr. Hymel captures the all-important sense of wonder and exploration with a touching
pianissimo
and great breath control. This is swiftly  followed by "Conduisez-moi vers ce navire", a fast aria with choral comment sung with flexible, pliant tone. Gounod and Massenet are represented too: the former by the aria "Faiblesse de la race humaine" from his long-ignored
La reine de Saba
. Mr. Hymel then risks his neck (and his voice) as Jean le Baptiste in Massenet's infrequently revived
Herodiade
, singing "Ne pouvant repremir les élans de la foi" with Biblical
puissance
.
For more about 
Héroïque
 check out this video of the recording sessions in Prague with 
Bryan Hymel and the Prague Symphony Orchestra. Courtesy Warner Classics.
The disc concludes with a hat-trick of obscure marvels from three composers that have completely fallen out of the standard (and non-standard) operatic repertory. Mr. Hymel seems to particularly relish "Le bruit des chants s'étend" from  Ernest Reyer 1884's
Sigurd
, a French post-Wagnerian attempt at setting the death of Siegfried. "Le jour tombe, Adieu, forêt profonde" from  Alfred Bruneau's
L'attaque du Moulin
is based on a libretto co-written by Émile Zola, and "Chante vieux jardin ta chanson de cigale" from Henri Rabaud's 1934 throwback opera  
Rolande
ends the disc on a warm and enveloping high note.
In the modern operatic world, revivals of
Tell
,
L'Africaine
and Verdi's three Parisian operas (the third is
Don Carlos
) are infrequent, especially in the original French. Performances of Reyer, Bruneau or Rabaud are near-impossibilities. These operas, interspersed between more enduring composers and mounted by a company with the required attendant resources might the interest of the die-hard opera lover or the curious subscriber. But with this hugely entertaining recital disc Mr. Hymel has succeeded in his mission. Who knows? He may yet force a revival of the rewarding and long-neglected art of French grand opera.