Marek Janowski's Berlin Tristan und Isolde.
by Paul J. Pelkonen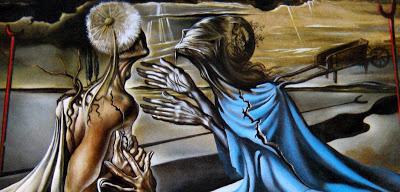 Love, Cornwall Style. This is a detail from Salvador Dali's Mad Tristan, created
as a ballet backdrop for the Metropolitan Opera in 1944.
Image © 1944 The Estate of Salvador Dali.
Marek Janowski's new recording of
Tristan und Isolde
has arrived, marking the midpoint of the conductor's ambitious plan to issue new live recordings of the ten mature Wagner operas on the PentaTone label in a three-year time-frame. (In case you're wondering,
Tannhäuser
is next.)
This set features the Berlin Radio Symphony Orchestra in a live concert performance (from March 27, 2012) at the Philharmonie in that city. Like its
four predecessors
, this recording preserves the visceral thrill of live opera with manageable semi-staged conditions and minimal intrusions from stage noise or audience.
Tristan
is at once the most mysterious and unapproachable of the "middle" Wagner operas, an internal drama of disastrous courtly love that is also a length meditation on longing and death. It requires
five
top-flight leads, but the success or failure of the opera rests squarely on the shoulders of its title characters. Wagner's flexible, chromatic musical idiom and heady philosophical libretto leave this opera open to interpretation from artists and listeners alike.
Mr. Janowski conducts the
Prelude
with an artful balance, choosing a moderate tempo that keeps the music interesting without being too brisk. Wagner's long lines for woodwinds and horns interact delicately against a painterly swell of low strings. The phrases are tentative in their first expression of longing, and then become tender and finally passionate as the themes flower into being. The first climaxes of the score have the same raw, primal energy that can still shock an audience.
Enter Nina Stemme. The soprano (this is her second recorded Isolde) makes her presence felt. Isolde's very first lines are delivered with an almost elemental anger. She is even better in the long "Tantris" narrative, presented here, like many of the long sections of this score as a single CD cue. She runs the emotional gamut: grief, compassion indignation and finally white hot rage that makes her decision to poison Tristan (and herself) sound perfectly...rational.
Stephen Gould's Tristan has a resonant quality to his voice, with a dark rounded edge that sounds baritonal in some passages. Mr. Janowski makes his entry for the long Act I duet almost mysterious--one hears the rigidly controlled sexual need and sense of puzzlement at Isolde's actions--even as the orchestra tells the listener what's going on in the princess' head. sing some very difficult passages at a quick clip in Act III, with the added benefit of compressing the length of Tristan's suffering.
The whole point of this opera (before all the death and suffering happen in Act III) is to bring the lovers together. Mr. Janowski does this superbly in the Act II duet, having Mr. Gould and Ms. Stemme sing at a very slow tempo in "O sink' hernieder," the central section of that epic love duet that is the warm-up for the final
Liebestod.
Their voices blend and blossom, creating a sensation of genuine bliss for the listner. They are interrupted twice: first by the fresh-sounding mezzo Michelle Breedt as Brangäne. Skilled engineering makes her watch-song sound ghostly and remote.
Anyone who knows this opera is aware that the second interruption (forcefully delivered) comes from (Isolde's new husband) King Mark, sung here by bass Kwangchal Youn. In Mr. Janowski's hand this "gotcha" moment becomes thrilling, and then heart-breaking. Mr. Youn is not afraid to make Mark sound old and vulnerable, injecting a slight quaver into his notes that might echo the sound of the Cornish ruler's broken heart. Danish baritone Johan Reuter is a sturdy and fiercely loyal Kurwenal, bluff in the first act, heartbroken in the third.
The final payoff for Wagnerians is the
Liebestod
, Isolde's final peroration over her lover's corpse. Thanks to Ms. Stemme and Mr. Janowski's artistry, this climactic aria has a transcendent, orgasmic quality as she bursts into the thrilling high phrases at "Heller schallend." Ms. Stemme's rich, resonant instrument keeps growing and swelling in power as the orchestra rises in power and speed. She reaches the second climax, urged on Mr. Janowski. "In des Welt-atems" leads off a long chain of descending high notes leave the listener spent and exhausted.
And that's just as it should be.