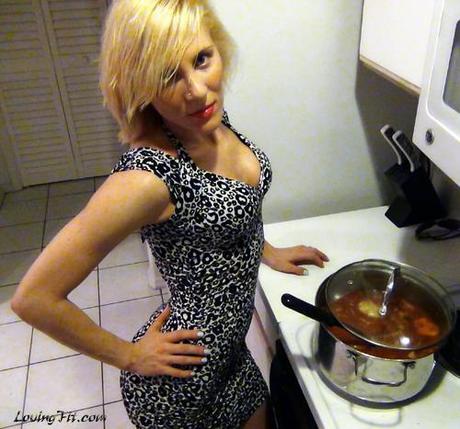 I just had my dinner now taking a photo

Today I had a craving for one of my favorite things to eat – Russian Borscht. I make it in a very simple way, everyone in Russia have their own way of cooking Borscht.  It is an easy recipe to make, and you can be done in about 30 -40 min.
Ingredients:
1.  Whole Chicken ( you can make it with beef, but I prefer chicken )
2. Three Large Potatoes ( clean the potato skin off and cut it into small pieces )
3. Two Large Onions ( chop the onions into small pieces )
4. One large can of tomato paste ( the only ingredient should be tomatoes not from concentrate )
5. Three cloves of fresh garlic ( chop the garlic )
6. One chilly pepper ( I decided to add one today for an extra kick of spice

)
7. One whole cabbage ( chop the cabbage the way you like )
8. Fresh Cilantro ( chopped )
9. Fresh Dill ( chopped )
10. Olive Oil
11.  Salt
12. Light Sour Cream
Take the skin off the chicken ( and cut the chicken to small pieces.  Fill up a large boiling pan half way up with clean filtered water.  Bring water to boil and place the chicken into the pan.  Boil it for five minutes and add  the potatoes, salt it to taste, turn the heat on medium to simmer.
Meanwhile it's time to prepare the sauce.  Take the chopped onions and a chilly pepper and fry it with olive oil until golden brown.  Then add the tomato paste, salt it as well to taste ( you can also add beets and carrots before adding the tomato paste, but I don't always choose to do that ).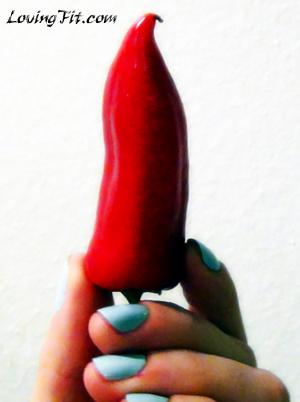 My extra special ingredient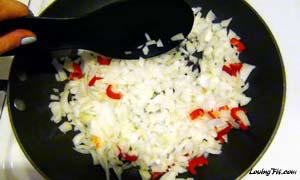 Fry chopped onions and a pepper until golden brown
When the sauce is ready place it into the pan with chicken and potatoes ( be careful not to over cook the chicken, it should soft but fully cooked ).
At last add the chopped cabbage, then on top place the shopped garlic, cilantro and dill.  Turn off the heat and let it stand for 15 minutes.  The cabbage will become soft after the soup is covered, it shouldn't become fully cooked, because I like to keep the nutrients from the veggies.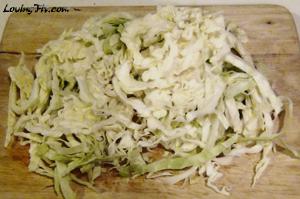 Make sure you don't over cook the cabbage to keep the nutrients in it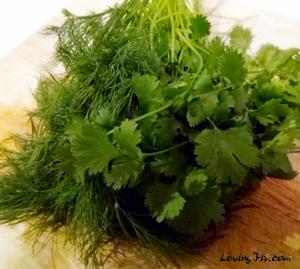 I love fresh herbs and cilantro with dill is my favorite!
When serving add a spoon of light sour cream to your plate and mix.
I also like to make home made bread as well, that way I always know what I'm eating.  I don't like packaged bread because of additives it contains.
This is my healthier version of the Borscht

.  Now wash all your dirty dishes and set the table to enjoy your Russian Dinner. And I will be making my self a plate as well.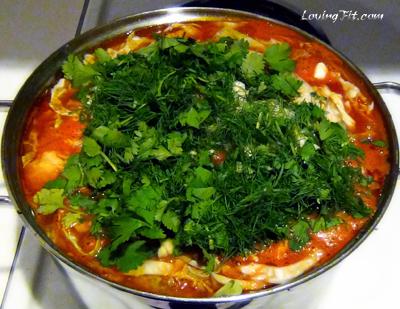 Yammi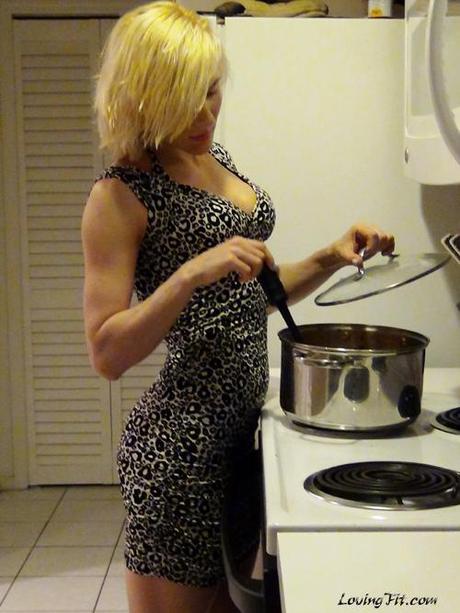 Making my plate
Let me know if you make the recipe and try it
Tatianna