I went a little nuts today.  I woke up strangely refreshed, considering I'd only earned a few hours of sleep and thought to myself, "It's time to go to CrossFit!"  I hustled to get myself together, tossing on my running shoes for the quick jog down Queen Anne Hill to Urban CrossFit.  I barely had time to grab a banana before leaving home and WOD-ing for just over an hour.  Typically, I leave CrossFit feeling both tired and exhilarated.  I feel perfectly satisfied to climb the 105 steps that create my path home and not think about working out for the rest of the day.  I eat a big breakfast, shower, and write / nap for a couple of hours before leaving home to either work or play.  I am always satisfied with CrossFit WODs – and today was no exception…
Except that today, when CrossFit was over I zigged instead of zagged and ended up running for nearly two hours.  Maybe I had a lot on my mind.  Maybe the break in rainy weather made me feel like today had to be the day.  Maybe I just felt like running.  Any way you look at it, I earned myself a dinner.  After work, I stopped by QFC and picked up a bone-in New York and some root vegetables and made a beeline for my kitchen.  This is what I did next: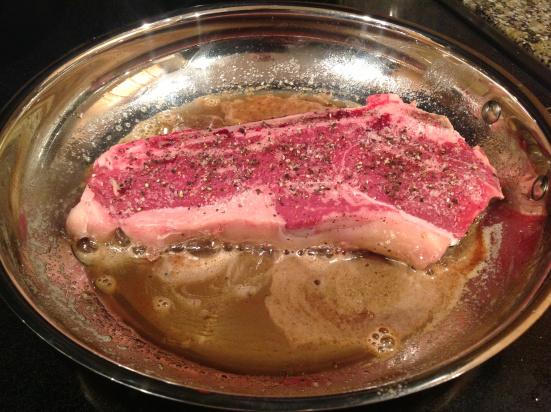 Five minutes later, it was dinner time.  Red meat and root vegetable heaven of a dinner time.  I love recovery meals.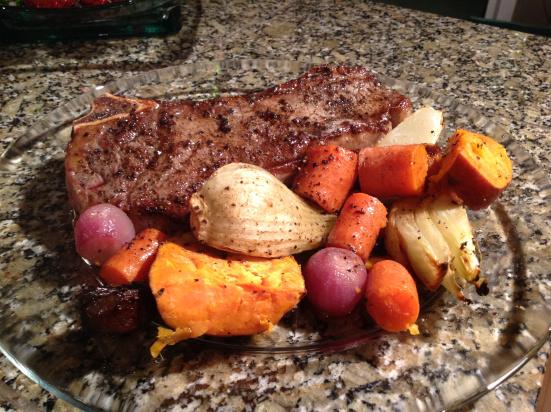 Pan-Fried New York Steak
Ingredients:
1 – 8 oz. bone-in New York steak
Salt and black pepper
1 Tbsp. olive oil
1 Tbsp. butter
Collection of root vegetables, chopped up and lightly tossed in olive oil
Method:
1. Preheat your oven to 400 degrees.  Place your root vegetables in a baking dish and pop into the oven for 20-35 minutes, stirring occasionally.
2. Heat a medium skillet over medium heat.  Add olive oil and butter, heating until the butter begins to brown.
3.  Season the steak liberally with salt and pepper.  When pan is hot, use tongs to set the steaks right in the oil.  Cook for 2 minutes on the first side and turn heat down to medium-low to finish the cooking.  Cook for another 2 minutes on the second side for medium-rare (If you want your steak cooked more or less, adjust the cook time accordingly).  Let the steak rest for a few minutes before serving.
Prep time: 5 minutes
Total time (including veggies): 30 minutes
Serves: 1 hungry lady