I wouldn't object to eating Mexican food literally every single day, but I don't think my waistline could handle that. One of my favorite dishes, however, is Chicken Tortilla Soup! It isn't heavy, like most Mexican dishes, and it's yummy all year-round!
I've found a great Chicken Tortilla Soup recipe, from Big Oven, just for you. There's nothing like homemade Tortilla Soup, and if you like spicy, you're going to LOVE it!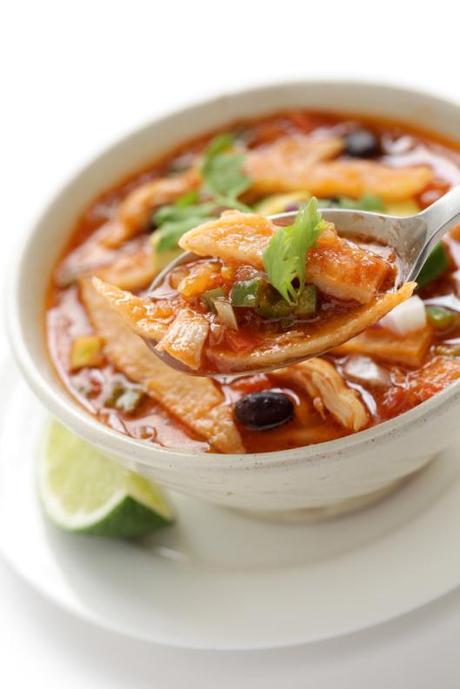 What You'll Need:

- 1 medium Onion – chopped
- 3 cloves Garlic – minced
- 2 tablespoon Vegetable oil
- 1 4-oz Chopped green chilis
- 1 15-oz can Mexican style stewed tomatoes
- 4 cups Chicken broth
- 1 teaspoon Lemon pepper
- 2 teaspoon Worcestershire Sauce
- 1 teaspoon Chili powder
- 1 teaspoon Ground cumin
- 1/2 teaspoon Hot pepper sauce
- 4 tablespoon Flour
- 1/2 cup Water
- 1 pound Boneless skinless chicken breast – cut into small cubes
- 1/3 cup Low fat sour cream
- salt and pepper to taste
- 4 Corn tortillas
- 1/4 cup Fresh cilantro
Directions:
1. In a large saucepan, cook the onion and garlic in the oil until onion is softened.
2. Add the chilies, tomatoes with their juice, broth, lemon pepper, Worcestershire, chili powder, cumin, pepper sauce, chicken, and cilantro.
3. Bring to a boil, reduce heat and simmer for 20 minutes.
4. In a small bowl, combine flour with water and whisk it to mix well.
5. Stir the flour mixture into the soup and bring it back to a boil and simmer for 5 minutes.
6. Stir in the sour cream, salt, and pepper and garnish each portion with the tortilla strips
Tortilla Strips:
1. Cut the tortillas into 1/4 inch strips and arrange them in one layer on a baking sheet sprayed with non-stick spray.
2. Bake them at 400 for 10 minutes or until they are lightly toasted and crispy.
3. Sprinkle lightly with salt, if desired.
Enjoy!
xo -Josie
[email protected]
Twitter:@JosieAlexandra