Somehow in just a few days, it will be October again, I don't know if it's getting older but time seems to go faster with each year that passes! But wi
th October, comes Halloween, some people love it, others aren't interested, but if you have little ones, it's a great excuse to go all out and re-live your childhood (well mine anyway!). 
This is the first year we will be doing things with Abbie, some dressing up and making some delicious treats together! I can't wait!
Try not to stress about all the things you think you need, it's actually pretty simple, obviously sweets are one of the top things you need, we now have more kids around our little area so won't end up eating it all ourselves this time! Grab some multipacks of little chocolates, and when it comes to baking, go for the ready made mixes and frosting, so much easier and super yummy!
With Abbie in mind, i've brought together a bunch of recipes from around the web, perfect for little hands to help with, easy on your pocket and super fun to make! How i'm going to resist making any of these before Halloween, I have on idea! Wish me luck!
Click the titles for direct links to the recipes! :)
Spooky Boo Brownies
Ok, do I really need to convince you to make anything that contains brownies? Probably not. But these are so so adorable and super easy to make, anyone can do them! This recipe is used with pre made products too so don't worry about having to make it all from scratch (unless you want to of course!), get the little ones to pour the frosting on and the marshmallows for the perfect halloween treat!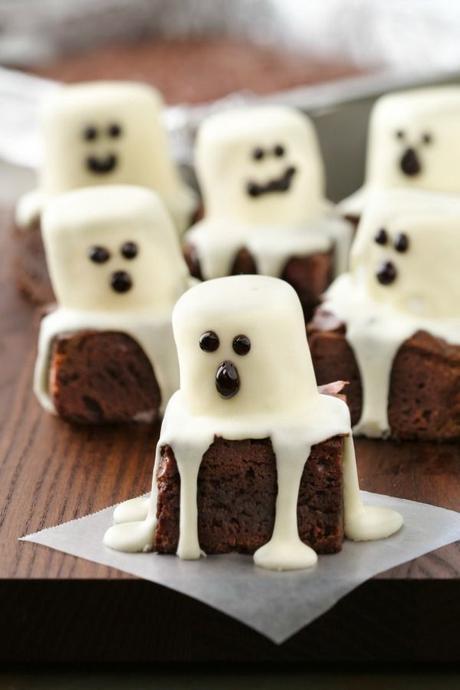 Ghost Cupcakes
Cupcakes are one of the easiest things you can bake, with so many different flavours and decorations, they are so customisable (is that a word?), cheap to make and always a family favourite! These ghost cupcakes from My Baking Addiction are so adorable and easy to make, just whip up a batch of chocolate cupcakes, top with some yummy frosting and some edible paper eyes and you're all set!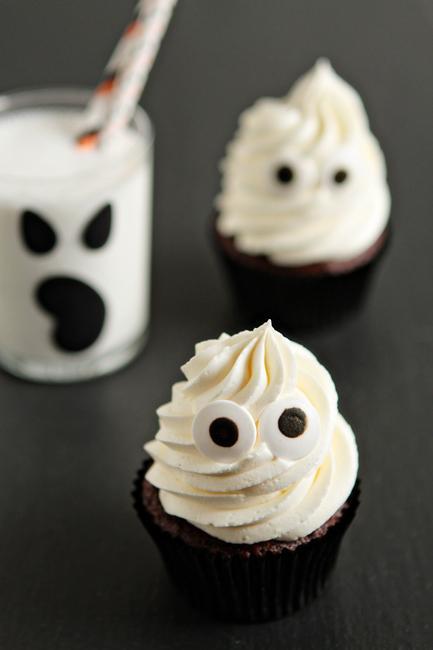 Halloween Bark
One of the easiest yet most delicious things you can possibly make, i've made a few types in the past including my Oreo Bark earlier this year! All you need is a few ingredients and some creativity with your toppings! For Halloween this year, I am going to be making a retro and old fashioned sweets style bark, ordering my yummy treats from www.aquarterof.co.uk and creating my own version of the Dairy Milk Marvellous Creations Bars, yummy!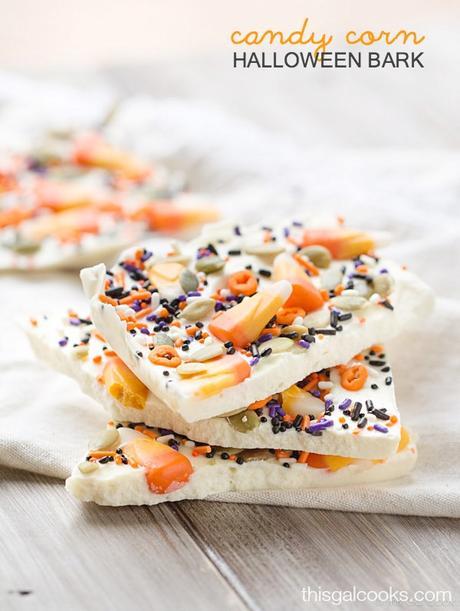 Halloween Marshmallow Pops
How adorable are these? So so easy to make and definitely a messy one which the little ones will love, create your own spooky characters and decorate using paper eyeballs, oreos, sprinkles and just about anything you fancy! I can see Abbie absolutely loving the dipping in chocolate part! If you can't find different coloured chocolate bits, just add some natural food colouring (I recommend gel) to  melted white chocolate to get your desired colour! These are a definite must have creation for this year, biting through the chocolate crunch into the gooey marshmallow, yum!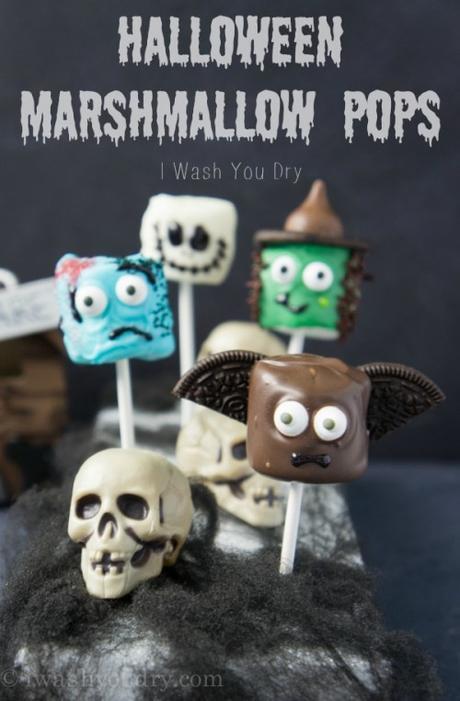 Monster Pudding Cups
If you're a bit of a budding crafter or fancy doing something a little different, these awesome pudding cups are definitely a must try! Just a few ingredients are needed and a little imagination from your little ones and you can create whatever pudding cup you want! For a little change why not substitute the chocolate for Angel Delight? Top it off with halloween themed sprinkles and mini marshmallows too? Mmm!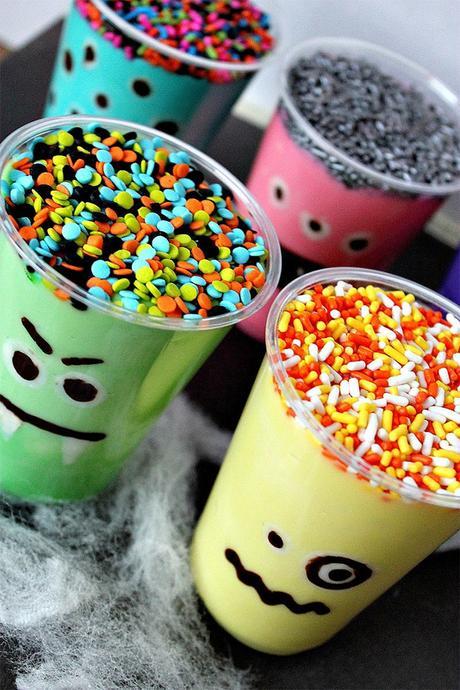 For other fun recipes, check out these awesome links below!
Pumpkin Halloween Cupcakes
Zombie Boogers
Halloween Blondies
Scardey Cat Brownies
Bloody Toffee Apples
Gooey Monster Eye Cookies
Monster Rice Krispie Treats
Pumpkin Pretzels
Tips;
Leftover sweets after trick and treat night? Make up a batch of cupcakes or cookies, spread over some buttercream and sprinkle them on top, quick, easy and great for sharing with the family!
If like me, you're a bit of a wagon wheel lover, melt some white chocolate and give the wheels a chocolate bath before leaving to set, then go ahead and decorate with sprinkles, googily eyes and other halloween inspired decorations! Bite inside to reveal the yummy marshmallow and jam layers! YUM!