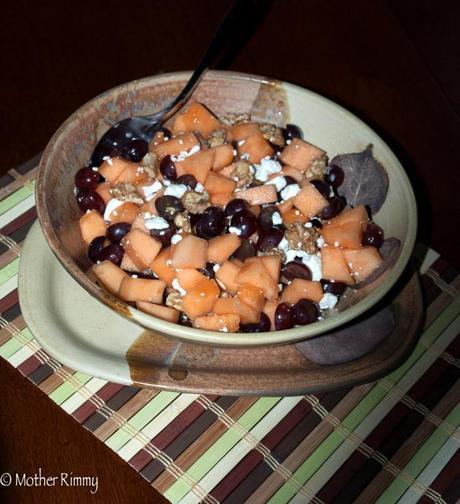 In the spirit of providing my family with the nutrients we need to be healthy and happy, once in a blue moon I'll chop up a fruit salad.
I'm one of those crazy people who isn't fond of fruits. I'll pop a carrot in my mouth before you'll see me crunch on a grape.
That being said, if you serve me a dazzling fruit salad, I might eat a scoopful. After all, it's a well known fact that eating 7 – 8 servings of fruits and vegetables is good for your body, and I don't want to miss out.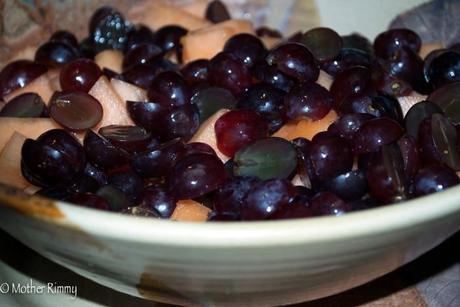 This salad was right up my alley. When it comes to fruit, there are a few varieties I'll eat – cantaloupe, grapes, apricots and berries.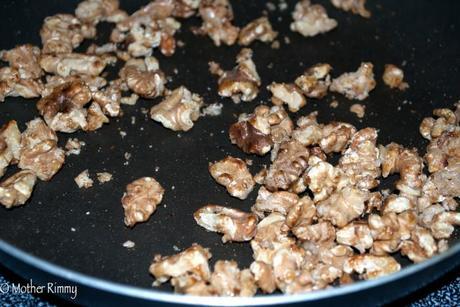 If you add candied walnuts and tangy goat cheese to balance the sweetness, I can get behind a fruit salad like this one.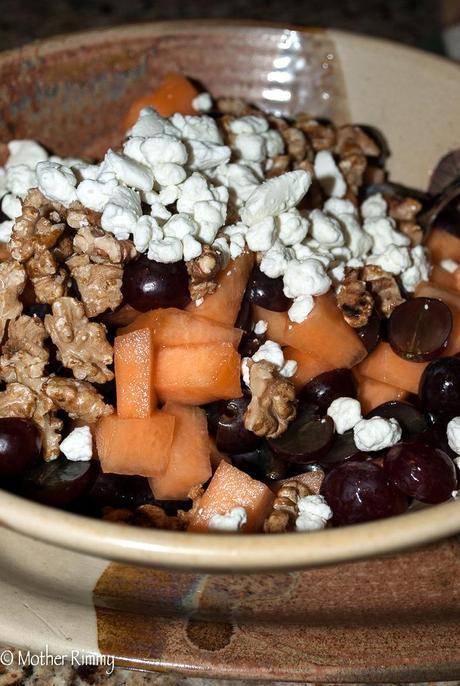 It didn't seem necessary to add a dressing, after all the juice in the fruit adds it's own convenient dressing. But if dressing is your thing, try this citrusy vinaigrette I used with a berry packed salad.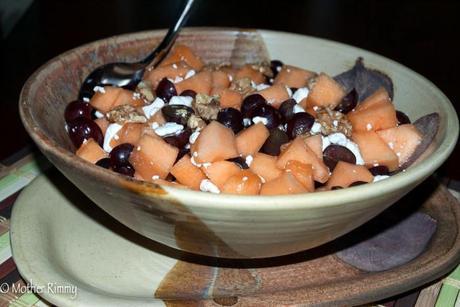 I'm off to do Saturday chores now that breakfast is behind me. I'm seeing more than my share of weeds in the garden, so I'll be getting my exercise for the day.
Have a terrific weekend!
~Kristi
Print

Recipe: Fruit Salad with Cantaloupe, Grapes, Walnuts and Goat Cheese
10 minutes
10 minutes
Serving Size: 6
230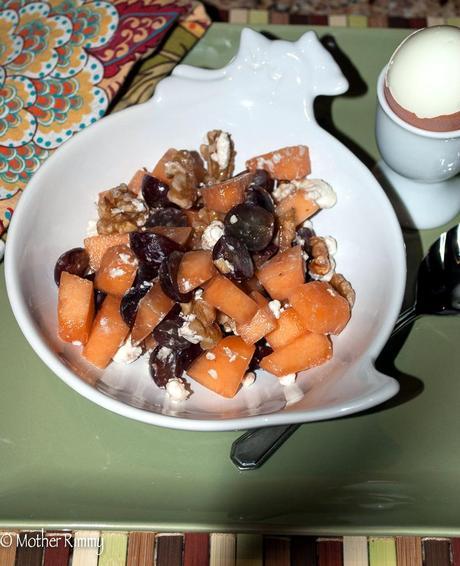 Shake It Up! Use any combination of fruits that please you. They all work well with goat cheese and walnuts. Glazed almonds or pecans would be delicious choices too.
Ingredients
¾ cup walnuts, pieces
1 tablespoon sugar
4 cups cantaloupe, cubed into bite-sized pieces
2 cups grapes, red, halved
½ cup goat cheese, crumbled
Instructions
Preheat a small nonstick pan over medium heat. Add sugar and walnuts. Cook stirring frequently for 3 - 5 minutes until sugar has caramelized over walnuts. Remove and cool.
Combine remaining ingredients with the walnuts and chill for 15 minutes.
Notes
Food energy: 230kcal Weight Watchers PointsPlus 6 Saturated fatty acids: 4.57g Monounsaturated fatty acids: 3.66g Polyunsaturated fatty acids: 5.73g Total fat: 13.96g Calories from fat: 125 Cholesterol: 15mg Carbohydrate, by difference: 18.08g Total dietary fiber: 2.30g Protein: 8.98g Total lipid (fat): 15.25g Water: 130.53g Ash: 1.82g Total sugars: 16.11g Calcium: 80mg Iron: 1.11mg Magnesium: 51mg Phosphorus: 170mg Potassium: 455mg Sodium: 116mg
Schema/Recipe SEO Data Markup by ZipList Recipe Plugin2.4http://motherrimmy.com/recipe-fruit-salad-cantaloupe-grapes-walnuts-goat-cheeseMother Rimmy�s Cooking Light Done Right by Kristin A. Rimkus is licensed under a Creative Commons Attribution-Noncommercial-No Derivative Works 3.0 United States License.
"People are attracted to you by what they see in you; they remain attracted to you by what you see in yourself." Mark Amend
This site contains affiliate links that help me maintain this blog, and meet my strict standards for quality content. Copyright Notice: Mother Rimmy's Cooking Light Done Right's images and original content are copyright protected. Do not publish these materials without written permission.
try { _402_Show(); } catch(e) {}