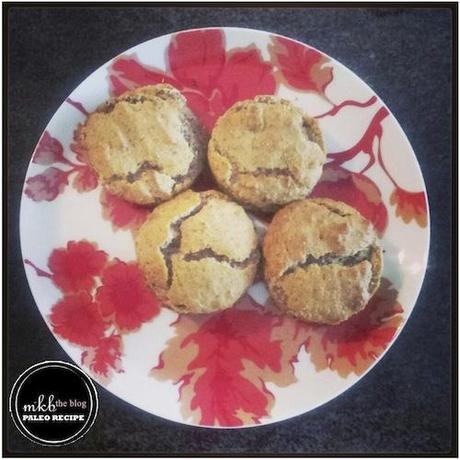 Adapted from fastPaleo
Ingredients:
1 Cup  Almond Flour, fine ground
1/4 cup Coconut Flour, sifted
4 tbsp Butter, grass-fed
1 Tbsp Baking Powder
1/2 tsp Baking Soda
1/4 tsp Salt
1 Tbsp Tapioca Starch
3/4 Cup Coconut Milk
1 Egg
Directions:
1. Pre-heat oven to 450F and grease the pan  (8×8 is suggested by fastPaleo, I used a round cake pan).
2. In a large mixing bowl; combine almond flour, coconut flour, baking soda & salt, mix with a fork until well blended.
3. Blend the tapioca starch to the flour mixture.
4. Cut butter into flour mixture and combine until the butter has turned into tiny little clumps.
5. Add the coconut milk and egg; using an electric mixer, blend the batter until smooth.
6. Pour batter into the greased pan and using a spatula, smooth the top (optional)
7. Place the pan in the oven for 30 minutes. (15 minutes is suggested by fastPaleo but both times I have baked these, the biscuits were never cooked at 15 minutes, definitely needed more time) or until golden brown.
8. Remove from the oven and allow it to cool for 10 minutes.
9. Once cooled, use a biscuit cutter and slice your biscuits (or just use a knife…up to you)
10. Serve them up and Enjoy!
*** Note: Because the recipe is made with coconut flour, the best way to get the biscuit shape is to bake first, cut second.  If you are opposed to cutting second, you can always create drop biscuits! ***