When I was planning my wedding and it came time for me to figure out the table layout for our reception, I became extremely overwhelmed and stressed.  96 year old Aunt Thelma won't want to sit close to the DJ, this friend doesn't know that friend, so-and-so doesn't like so-and-so...blah blah blah!  If you are in the middle of planning your wedding and have thought about the seating, I'm sure you have some idea of what I'm talking about.  It can become a huge headache!  So, to make the long story short, I needed to come up with a way to figure out who was sitting where without creating more work for myself.  I read about this idea in a bridal magazine (Can't remember which one) and I adapted it slightly so that it made sense for myself.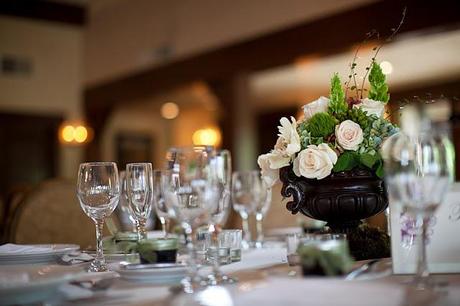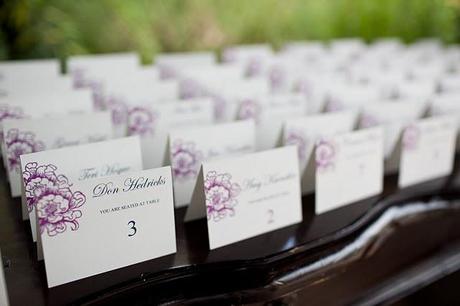 The photos above are from our actual wedding!  I made the place cards myself by printing, stamping and embossing them.  My lovely aunt put together the gorgeous flower arrangements to create a rustic, yet romantic and elegant feeling for the event.  On each plate sits a small jar of homemade berry jam from my mom for guests to take for their favors.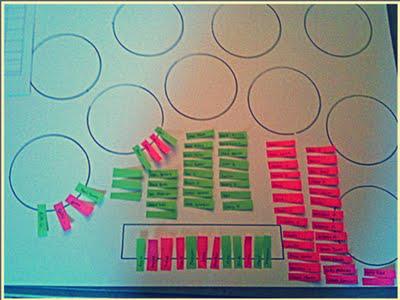 Forever Lovely
This is the system that I used to organize the reception seating for our guests.  It worked out perfectly for me because I was able to visualize where everyone would sit and with the sticky notes I could move people easily without making a whole new layout.  Here are the directions!
On a large poster board use a round stencil to create circles for however many tables you will be having to seat your guests at your event. (I used a flower pot)  They do not have to be laid out perfectly, but do the best you can with imitating the actual layout of the room.
Number or name each table according to how they will be at the actual event.  
For those of your guests who have already RSVP'd make a sticky note tab with their first and last name on it.  I used regular square sticky notes and cut them into strips.  Pink for the ladies and green for the gents.
I laid my sticky notes out in rows before I assigned them to tables so that I could see what I was working with.  
Play around with who will sit where and If it won't work, simply pull up the sticky note and move it somewhere else.
When you are finished, record your seating arrangement on a separate piece of paper or a computer chart.
Thats all there is to it!  Remember to make sure there aren't too many or too few guests at each table.  The tables at my wedding ranged from 7 to 10 guests per table.  Take into account where the dance floor and DJ will be located in the room, as well as doors, walk ways etc.  I hope this helps out the stressful process of seating your guests!  Email me if you have any questions!
*If you would like to use any of my photos, please always link back to Forever Lovely.  Thank you!
I hope everyone is having a fun & safe weekend!
-Forever Lovely