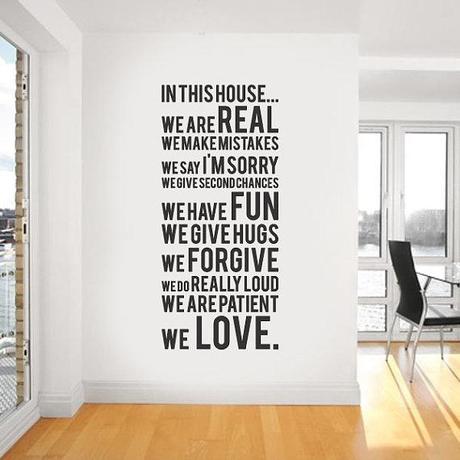 There is one thing that I know most of us love to dream about; The perfectly decorated home.  There is one major problem with this aspiration and I feel like everyone is scared to talk about it, so let's get real.  Aside from movie sets and magazines these homes simply don't exist.  That is, if you are actually living in your home, perfection simply does not exist.  Don't get me wrong, I still love trying to create perfectly beautiful, functional, magazine-worthy spaces in my home because I am passionate about design and am always inspired by the gorgeous interior design photos that I see in magazines or on Pinterest.  But another thing I'm passionate about is family and I know one thing for sure, if you are trying to raise a family, or even if you are just trying to get through each day without the dishes piling up and mail stacking to the ceiling, I think that we can agree that our homes certainly do not look perfect all the time.  There is something to be said for how much most of us, including myself, spend days scrubbing, vacuuming, decorating and perfecting our homes before company arrives.  God forbid we let them see how we really live.
     When I went on Pinterest to search for photos of what our real homes really look like, I was quickly defeated.  I typed the words "real homes" into the search bar and after a couple seconds of searching an error message flashed on the screen.  I'm not saying that we should start photographing and displaying our lived-in homes, but what I am trying to say is that we can't hold ourselves to such a high standard when it comes to the way our homes look.  When I look around me I see a coffee table with five books on it, some finished, most half-way read.  I glance into the kitchen and I see my breakfast dishes still in the sink and if you take a peek on the counter you will see mail beginning to stack up from the week.  The photos that we see on Pinterest or in Magazines have been styled for days by people who do just that for their living.  In other words, life is not happening in these spaces mid photo shoot.  I have heard around the web that for some people looking at these perfectly styled homes actually makes them feel bad.  This is something that I fully understand and from now on, this blog is going to GET REAL.
     I'm not saying that I'm going to stop posting beautiful pictures of interior design, because truthfully I think it still can be inspiring and fun to admire them.  We just have to remember to admire them with the understanding that most of these photos are not real.  Yes, it might be slightly disappointing to some of you, but let it be a free pass for you to not have to worry about being perfect.  The fact is, no one is perfect and I hope that we can all come together in that fact, admire beautiful interior design and talk about what it's like to live in our real homes.