Over the past few weeks, this girl has been acquiring some new goodies! Sometimes to the husband's dismay, but you know – for work, fall, posterity :-P
I wanted to share some of the greatness I have gotten, because I have just been too excited about everything.  I got some basic needs like a black pencil skirt and basic tops, but I wanted to share some of the stars I have acquired because the girl just can't help it! :-)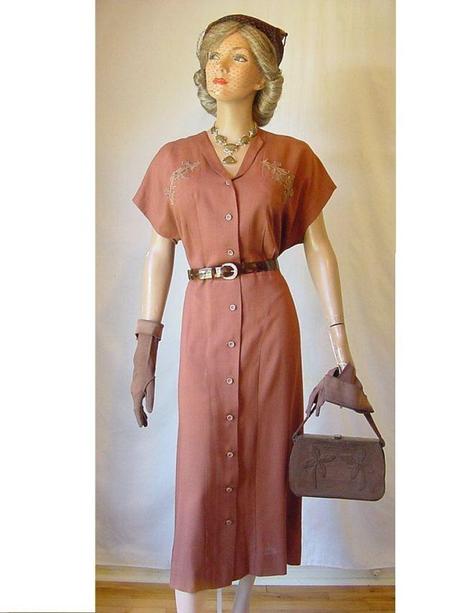 1940s Rust Colour Lace Detail Dress
As soon as I saw this, I knew I had to have it.  Isn't it just perfect for fall with that colouring? It is the most divine rust colour, with slightly lighter lace detail at the bust pockets.  Authentic vintage in my size for $45? Yes ma'am!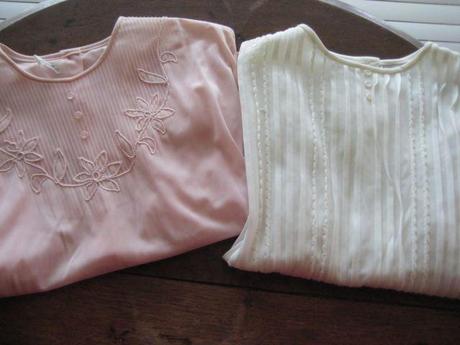 Vintage 1950s Dead Stock Blouses
When I saw these, I envisioned them with jeans, a nice circle skirt – anything!  I love the subtle-yet-intricate details that both blouses have, as well as the soft colours that know no bounds of season.  Perfect basics that aren't-so-basic that can take me from work to anywhere else without too much effort.  And who doesn't love that?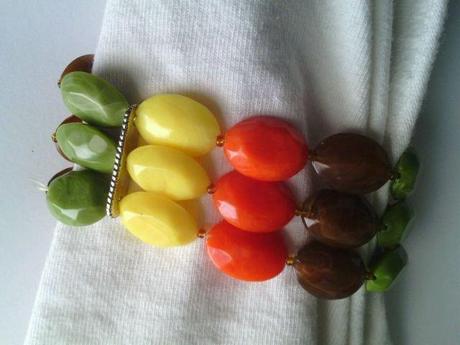 Vintage 1940s Lucite Bracelet
I saw this and had to nab it.  The colours are utterly fall and will match with a lot of my wardrobe.  The rich yellow, orange, brown, and green complement each other so well and make me instantly think of fall when the leaves are at their most vibrant and spectacular colouring. And for $10, too ;-)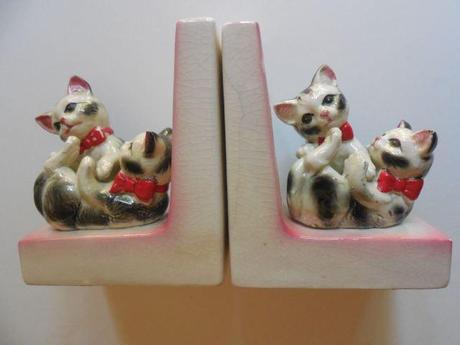 1950s Kitsch Kitten Bookends
Anyone who knows me knows I love some good midcentury kitsch – I'm already amassing quite a collection, and always itching for more!  As soon as I saw these cuties, I had to have them – and now I do!  They are lovingly hugging some vintage pulp fiction novels I have on my vintage shelf in our bedroom.  And they are just bloody adorable.  The one thing that wasn't adorable?  The seller I received them from using the name on the return address portion as "Mr. Big".  Ehhhh…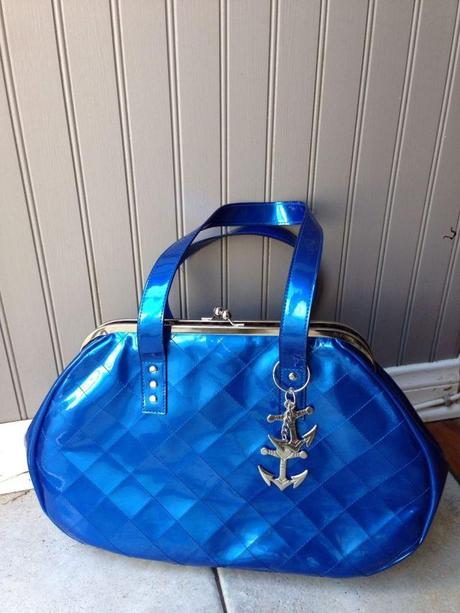 Lux de Ville Blue Anchor Bag
I could not resist the color of this bag.  I absolutely adore Lux and all of Yvette's designs – I have about 5 or 6 of their bags now, and I'm always lusting for more :-)  Oh, and something else pretty cool?  I accidentally got my nails done the same color as my bag last week: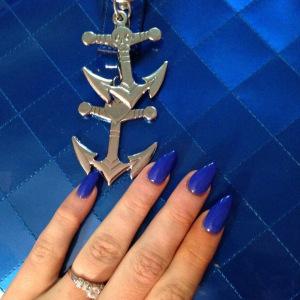 Tee hee hee :-P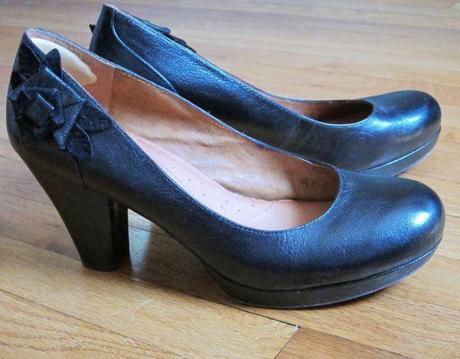 Naturalizer Vintage Inspired Pumps
I've been on a shoe binge lately, I will be the first to admit.  I feel like I am perpetually lacking in the show department, even in basics.  So, when I saw these beauties, I had to nab them.  They are a good brand, and the leather is as soft as a baby's behind.  They are basic but yet not-so-basic – which is perfect and ever so versatile.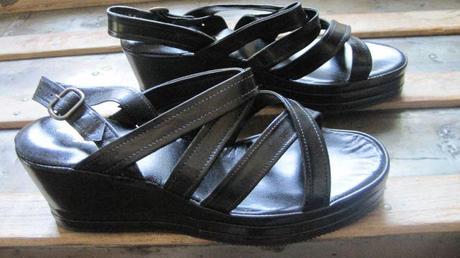 Black Remix Vintage Inspired Wedges
Anyone who is anyone in the vintage, pinup, or rockabilly scene knows of Remix.  I've lusted after them for quite a while now (along with Miss L Fire!), so when I found not one, but TWO pairs of Remix shoes for under $30 each (when they retail for well over $100 each), I was nearing peeing myself.  I had to, I just had to.  I got these little lovely black wedges along with this gorgeous chartreuse pair as well: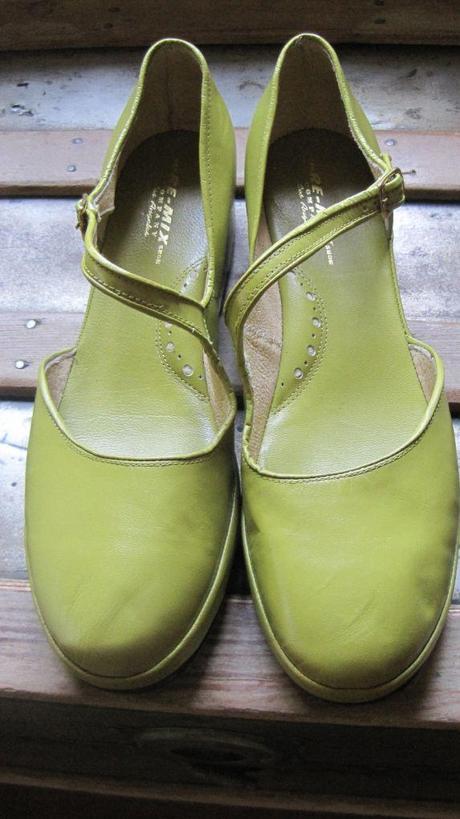 I love them!  Unfortunately, one of the back straps broke on the black pair, but I can reconfigure them to take out the back straps and just make them a slip-in sandal.  Problem solved! :-)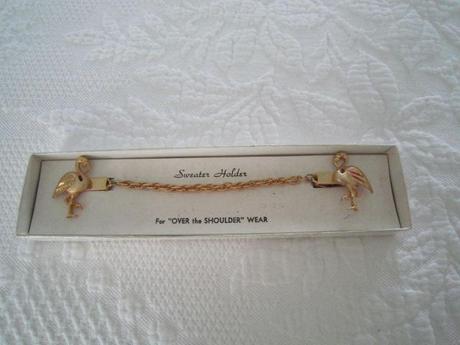 1950s NOS Flamingo Sweater Clip
I have always wanted a sweater clip/holder, but have never really found one that "spoke" to me, so I never indulged.  I happened to randomly search for sweater clips on eBay, and I came across this beauty!  I love flamingos, they have such a broad appeal across the vintage and rockabilly scenes alike.  And this being NOS sealed the deal for me.  I love pre-loved vintage dresses, but for some reason little items like this I get excited about being new and I can't believe how it made it this long without being loved by someone!  I had to give it a loving home…so I did :-D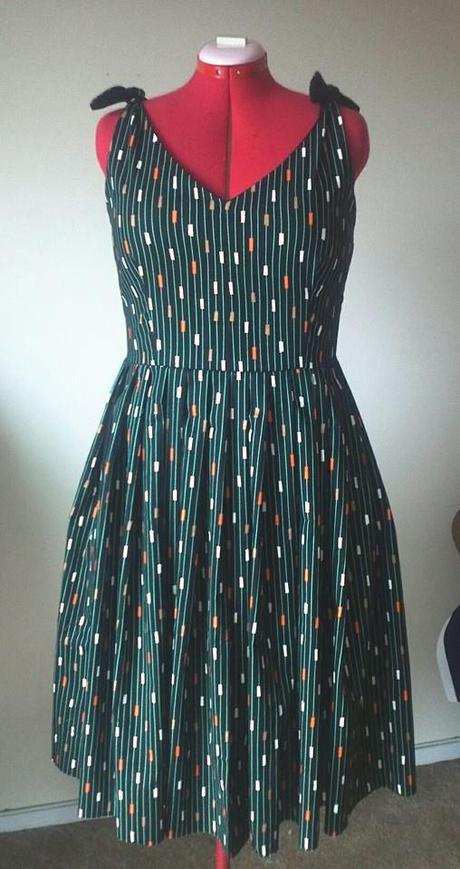 Vintage Reproduction 1950s Tie Shoulder Swing Dress
I bought this off of a Facebook group that specifically caters to vintage for ladies over a size US 14.  This was hand made by a member of the group who makes FABULOUS dresses by the name of Tatted Tina Lopez.  The quality of her work is simply amazing, I must say!  I instantly fell in love with this dress from the tie shoulder straps to the way the print just screams mid century modern – I had to have it in my life! Can you honestly blame me? ;-)
What goodies have you recently purchased?  Anything you want to share?  Do you get as excited as I do, or am I alone here? :-P