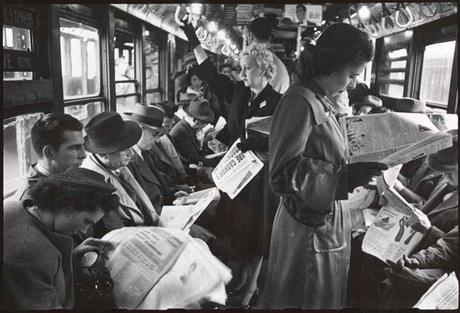 Can you believe we are into October already? It seems like just last month I had gone to Viva and spent the week afterwards in California at my friend Nicole's, and don't even seriously tell me it's been six weeks since my surgery! It seems that every year the train of time chugs along a wee bit faster than it had the year prior. Before I know it a temperature of 32 degrees Farenheit will be the norm and I will be cursing the snow every chance I possibly can. 
I have decided to start a new series, one where I will post the month in articles relating to vintage, history, rockabilly, and like topics. I will try to accumulate near a number of ten for you all – some months may be more fruitful, while others may be less so. I am sure you could understand that!
With that being said, let's get to the links, shall we?
91 Year Old German Woman Faces Charges of Accessory to Murder as Worker at Auschwitz – I find this article fascinating. It brings up a lot of morality issues: is she still culpable 70 years later for her crimes? How involved was she? Should the charges be dismissed in the interest of her age? Certainly thought provoking.
92 Year Old Man Sings to His Dying Wife – If this doesn't make you tear up or at least smile, you have no heart. Doesn't everyone want a love like this?
Pre-Drug War Vintage Ads from When Cocaine Was Just Another Vice – Ads for cocaine paraphernalia, mostly from the '70s (naturally). These will both shock and humor you.
Hollywood Sunset – An article/interview of Monica Lewis, the discovery of Benny Goodman, who could just about do it all – sing, dance, do jingles, host radio shows, and more. Quite the lady and a tale of the times.
The Leading Ladies of Old Hollywood – The photographs of legends such as Marilyn Monroe, Audrey Hepburn, and Grace Kelly by Sir Cecil Beaton.
Boxed up for 67 years and now set free: Brand new 1948 Youngstown Kitchen cabinets + 1948 GE Airliner stove – This set just made my jaw drop! Brand new and still in the box, this cabinet set and stove have been waiting for use for 67 years. If I could redo my kitchen with this, I'd be on it like white on rice!
Upper Deck: Traveling in Style – These are some amazing photos of some premium examples of air travel from the 1960s & 1970s. There were open bars, beds, tables, and LEG ROOM! Why can't we still travel like this?
303 Dubsdread Circle – Check out the amazing home up for sale of Brownie Wise, former VP of Tupperware Home Parties (and soon-to-be subject of a movie!). I absolutely adore the mesh of both Art Deco and Mid Century Modern elements in the home. Such an amazing space! If I could deal with the Florida humidity I would live there in a hot minute!
Lunch Menu from Titanic Sells for $88,000 – The menu from the last lunch on the Titanic on April 14, 1912 has sold at an auction for a price well above its estimated fetching price. It's amazing to see the opulence of the First Class of the ill-fated ship from a first hand source. Fillets of brill, cockie leekie, ox tongue…and to finish was a platter of numerous opulent cheeses. Is it just me or am I the only one who would be eating all of the cheese? 😉