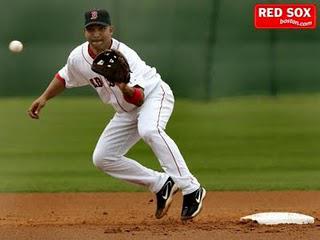 I recently did a post on
throws to second base
by pitchers on pick-off moves.  This one deals with the footwork around the bag at second on the part of the shortstop.  If you are a reader of Baseball By The Yard, you are probably aware that I am a firm believer in proper footwork.  I am convinced that most mistakes in baseball, no matter what area of the game you are referring to, are caused by poor footwork.  Below are a couple footwork tips for shortstops who are receiving a pick-off throw at second base.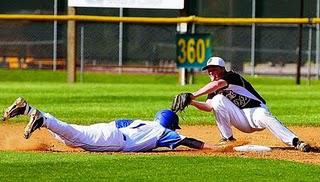 This shortstop went too far and should have stopped
with his left foot at the bag.  The throw looks to be
a good one.  He is just out of position.
Square up to the pitcher
.  One of the common mistakes made by shortstops on this play at second base is that they travel too far to the bag and try to straddle the bag like a second baseman would on a pick-off (bottom photo).  The problem with this is that the footwork to get into this position for the shortstop takes longer.  He'll also have the problem of having to backhand any throw that is thrown on the third base side of the bag - which is where the throw should be.  When a shortstop approaches the bag on a pick-off play, he should remain squared up to the pitcher the whole time (top photo).  Doing this will allow the shortstop to go in any direction for the ball that is thrown too far to the left or right of second base.  He will not have to backhand as many throws either.  He just catches the throw and brings the glove down to the runner.
Left foot by the bag
.  You will also see in the top photo that the shortstop is about to land his left foot by the bag.  This is done to put his body in the proper position for the catch and tag.  As stated in the
previous post
, all throws should be about thigh high and just to the third base side of the bag.  Putting the left foot near the bag not only keeps the shortstop squared to the pitcher, a good throw will be right in the center of his body making it very easy to catch and tag.