Diwali, the most significant Indian festival is just around the corner and I couldn't be more excited, cuz unlike yester years, this year my wardrobe is equipped with myriad traditional outfits. In the past I wouldn't bring much from my traditional stock back in India as there was no use, honestly! But now every time I go to India, I swap my current US stock with that in India to bring back more and newer Indian clothing options to US, to flaunt them here on the blog and at all the Diwali parties 
I bought this Banarasi Silk Sari for my housewarming celebration three years ago and haven't had too many occasions to wear it. I am glad I chose to wear it today for the photos and will be wearing it to one of the four Diwali parties I'm attending this year. 
Bananas silk saris are Indian Saris made in Varanasi ( former Banaras ), a city in Uttar Pradesh. These saris are indigenous to Banaras and hence the name- Banarasi Sari. These saris can be a bit expensive depending on the extent of gold weaving. The more intricate the gold thread work is the higher the price would be. The price can range anywhere from thousands of rupees to lakhs and sometime even more.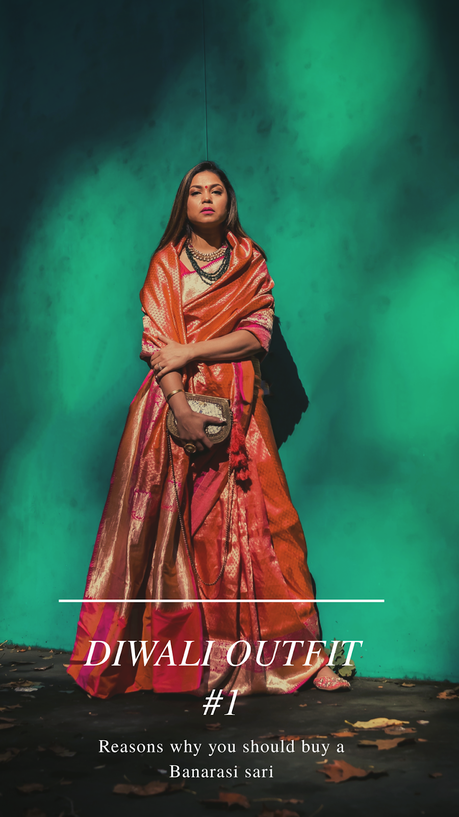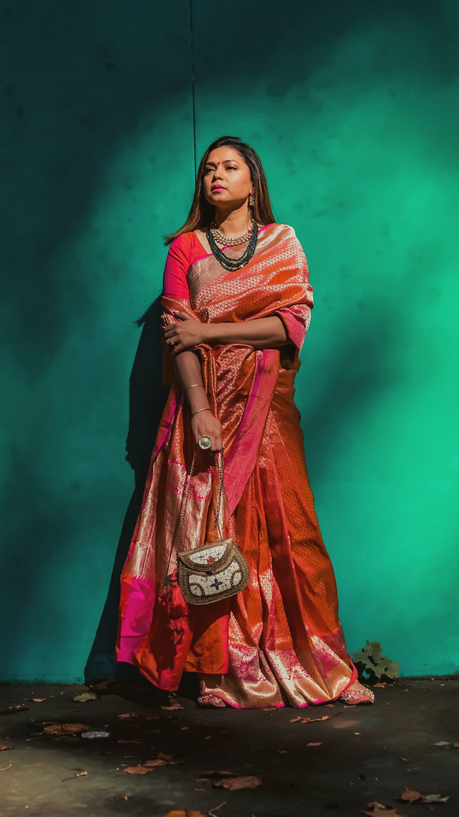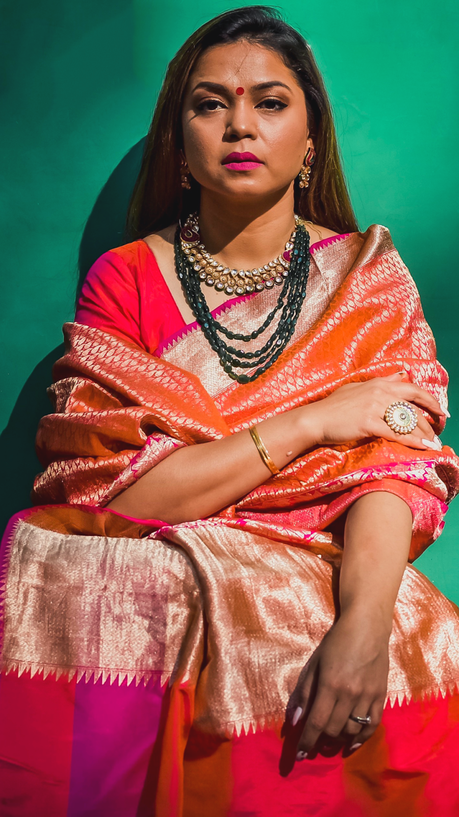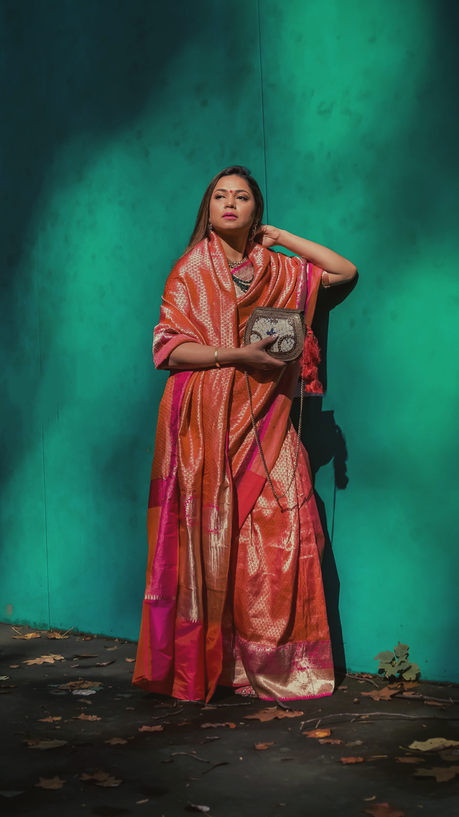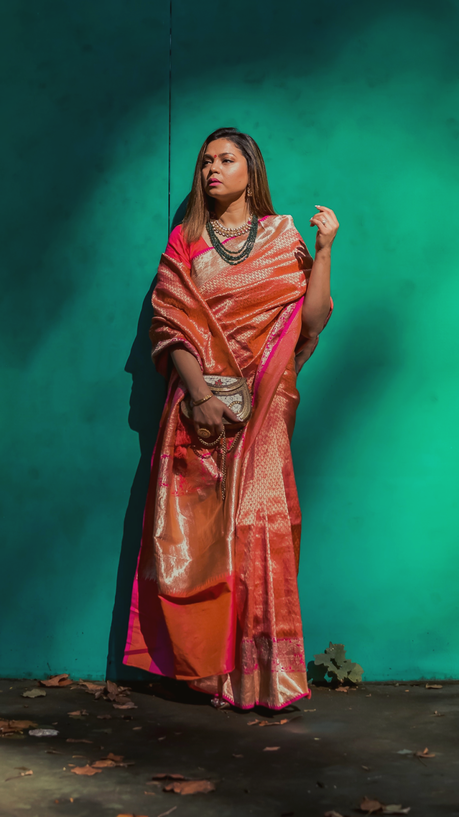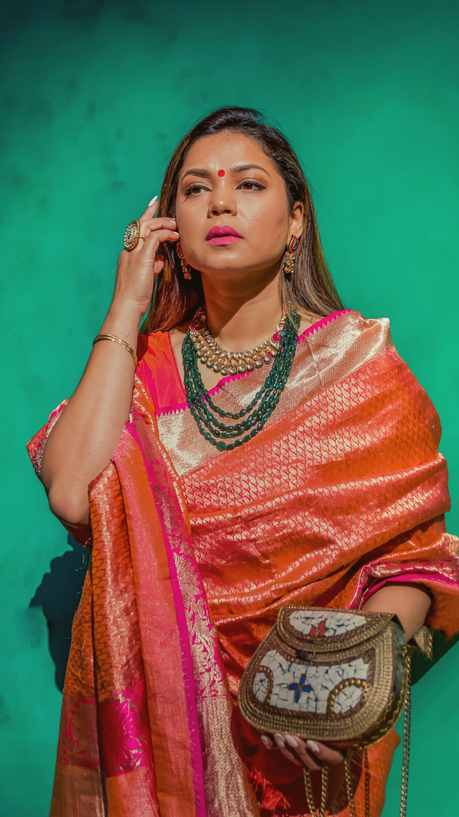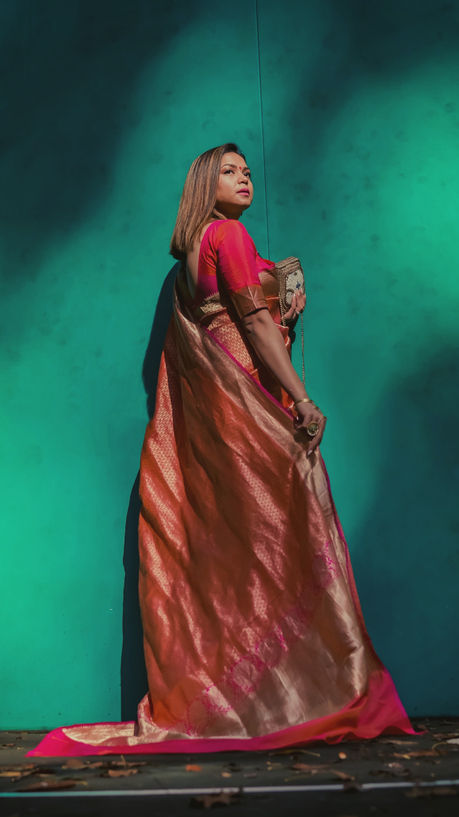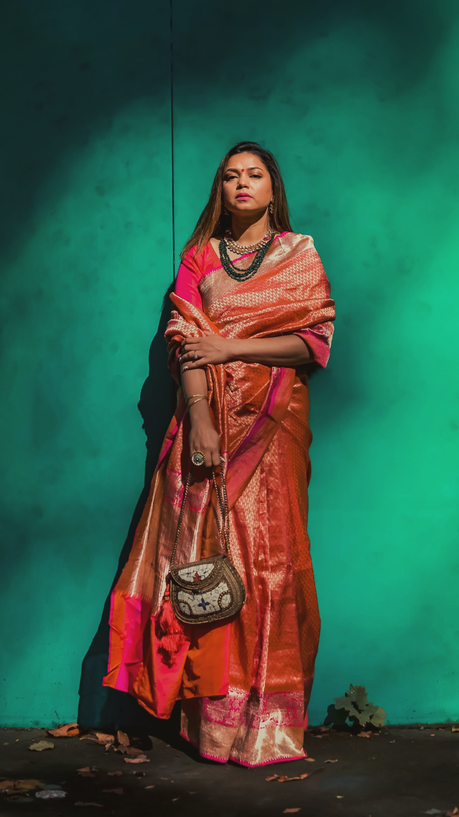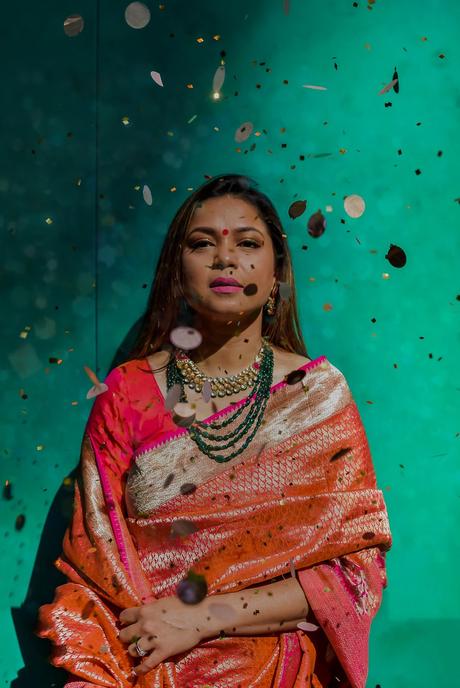 While it may be a splurge for some I highly recommend investing in one. If you take proper care of these saris, it can stay in your family for generations. These saris are passed along as family heirlooms that never go out of style. 
A Banarasi sari is elegant, graceful, pretty and quite a stunner. Make it a part of your Bridal Trousseau or just wear one- it will always be a show stopper regardless. What makes this Sari even more desirable is the fact that it can be worn several different ways and can be dressed up or dressed down. For a formal set up, elevate the look with a matching Banarasi silk blouse, and add some spectacular jewelry. For a more casual vibe, team the sari with a coordinating printed blouse in a non-gaudy fabric, some edgy jewelry and voila! I can totally see myself wearing this Sari with a denim jacket casually thrown over the shoulder. 
How do you like to wear your Banarasi saris? Do you own any Banarasi sari that was a hand-me-down to you from your mom, grandma or siblings? Hope you liked my Diwali outfit #1. Come back tomorrow and next couple of days for a few other Diwali outfits. 
Now it is your turn to share your favorite looks.


You are invited to the

Inlinkz

link party!

Click here to enter