If you are a Developer, builder, realtor or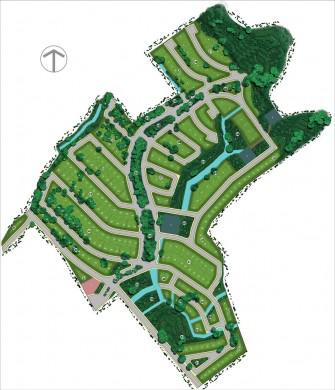 any other professional dedicated to the Real Estate business you are surely looking to create site plan renderings to promote your newest development. Whether your project is a custom home, multi-family site, residential neighborhood, business center park, corporate headquarter, condo housing property, or any other type of construction, GoldmanRenderings.com can help you develop the effective photorealistic colored plans you always imagined.
Master plans are computer made using a combination of 2D and 3-D software like 3D Studio Max and Adobe Photoshop. As our 3d graphics are assembled in multiple different layers, they allow a great flexibility and versatility to add new zones, modify or change particular items like vegetation, textures, colors, and many other elements that form part of the product. All our services are customer focused, so whether you will be using the rendering views for the web or brochures, we can generate the file sizes and formats you need.
Enhance your selling efforts by presenting your project with well-developed computer renderings. Real Estate builders usually request site plan renderings to show the development as a whole, as a complement to architectural animation products.
Why Goldman Site Plan Renderings are a Great Choice For You
Our site plans can have the level of detail that you want, no more, no less. We are always thinking of new solutions to give clients more than what they need, and always with very competitive prices. See 4 great benefits of working with us below:
The products are easy to revise and modify with no need to re-work of the full image again.
Our average delivery time are from 7 to 10 days with standard service. We provide with an express turn-around of 3 to 5 days depending on the size and details of the project.
You have the possibility to request for special individual sections of the image to comply with your sales campaign. For instance, if you are promoting a huge development, you will probably start marketing the first phase. So, we can send you the file with the whole plan and also the individual renders showcasing the different stages.
We provide with up to 4 revisions that are included with the project's fee.