I seem to be a bit late for jumping on a lot of bandwagons these days but it's better late than never, so today I'm here with the amazing Real Techniques Core Collection which I'm sure you will all already know about. I had been eyeing up this collection for months but for some reason I just couldn't make myself part with the £21.99 for the four brushes. Luckily David was amazing and gave me the set as an anniversary present so of course I was absolutely over the moon to be trying out the brushes at long last, especially with the countless great blog reviews certain brushes were receiving. I have been using these brushes for about a week now and have to say I'm absolutely loving them, and now I'm wondering how I managed before the Core Collection.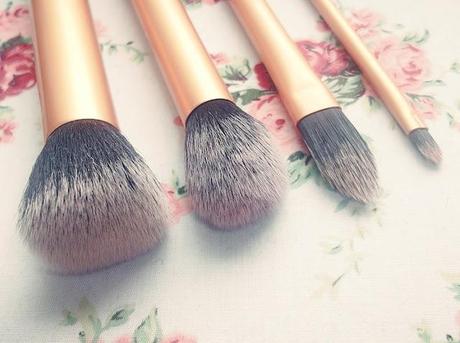 L-R: Buffing Brush, Contour Brush, Pointed Foundation Brush, Detailer Brush
Buffing Brush: This has been the brush that had the most coverage on blogs and for good reason too as it is incredible for achieving a flawless finish when applying liquid foundation. It is a flat top kabuki brush with super soft bristles and is dense enough for buffing in foundation without being too solid a brush for blending. I have been using this brush on rotation with my Sigma F80 and am so happy to finally have it in my collection as it is certainly worth the hype.
Contour Brush: Surprisingly this brush has become my favorite in the collection as it is such a multi-purpose tool and a must have in my daily make-up routine. The brush does exactly what it says on the tin and is great for contouring as it is the perfect size for fitting into the cheekbones, but I have also been loving this brush for applying blusher and highlighter due to its tapered end.
Pointed Foundation Brush: As much as the name suggests, I just can't see myself using this brush for general foundation application as it is so small and pointed. Instead I have been using it for applying concealer to larger areas and the occasional dotting of foundation on problem areas. I can't see myself using it for anything more than that but I'm still glad to have it for extra coverage on those not-so-nice skin days.
Detailer Brush: This brush was always the one I was confused about as I wasn't quite sure what I would use it for. It is essentially a tiny version of the Pointed Foundation Brush and for that reason I was just struggling as I'd only just found use for the larger of the two. The box description suggests that you use the brush for concealing problem areas or lipstick application, but after trying the two it's safe to say it will be sticking to very precise concealer application or any other dainty tasks.
All in all I'm so happy with the Core Collection but do wish that these brushes were sold separately as there are clear favourites in there. Next on my hit list is the Real Techniques Blush Brush and I'm already saving up the Boots points so I can give this baby a go too. The Core Collection can be found in Boots for £21.99.