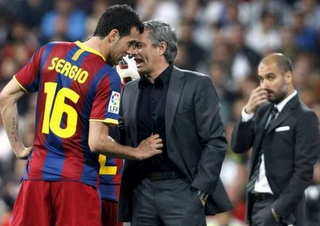 Guardiola awkwardly watches Sergio Busquets and Mourinho
nuzzle noses in a memorable moment of the match
After my makeshift preview of El Clasico, things turned out exactly as I didn't think they would. While I was expecting an exciting battle between two sides wanting to crush each other, it turned out to be a fairly tiring affair to watch, especially the first half. The game eventually finished 1-1, with two goals scored from the penalty spot.
While Barcelona are a wonderfully inventive machine, it seemed as if Real Madrid had gotten themselves stuck inside the cogs of Barca's very technical system. Real started as a nuisance to Barcelona, nothing more nothing less. While Barcelona did their best to keep possession, Real defended deep and scrappily, stopping the game often for petty free kicks and other useless happenings.
Jose Mourinho's mastermind idea of putting Pepe into the midfield worked out perfectly, as the Portuguese-Brazilian was merciless in his aim to kill everything blaugrana. Alongside Khedira and Xabi Alonso, a three man wall was formed in front of Madrid defence, giving Barcelona a very tough job to do. While Messi's brilliance was shown in spurts, forcing Casillas to a good save as his defence panic, the Argentine was unable to stamp his authority on the first half.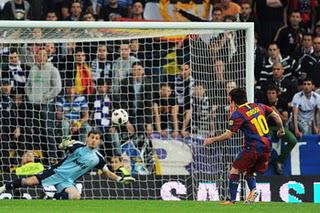 Casillas got a hand to but was unable to save Messi's penalty
Yet Real Madrid were also fairly dangerous when they wanted to. Their cautious play was only effective going forward from set pieces, where they came very close to scoring with headers flashed wide. But Barcelona were dangerous as well, with David Villa brought down by Casillas in the box, risking a penalty for the Catalans. Simply stated, I've seen penalties given for less. But the first half drew to a close, Mourinho's mind churned through tactical systems and inequalities while Guardiola's speakers blasted out inspirational Coldplay in the dressing room.
The second half was sparked to life a few minutes in, when Raul Albiol's snake-grapple-takedown on David Villa resulted in his direct expulsion and a penalty for Barca. With laser pens flashing into Messi's concentrating eyes, the Argentine coolly trotted his run-up and put the spot kick into the back of the net. It was a disappointing start of the second half for Real, and things didn't look to get much better as Barcelona began to express themselves artistically in dominant possession.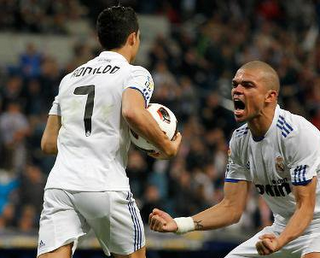 Pepe wildly celebrating Ronaldo's equalizer
Jose Mourinho decided that it was all or nothing, and he substituted Benzema with Ozil and Di Maria with Adebayor. The pair of substitutes provided a necessary hunger which revived their teammates into a frantic push in the final ten minutes of the match. All this newfound Real pressure culminated when Marcelo earned a penalty as Dani Alves brought him down. Not to be bested by the short Argentine, Ronaldo smashed the penalty into the top corner in the 82nd minute.
The final minutes were the exciting frenzy I had been longing for. Real Madrid were fearless in their pushing, and Barcelona weren't really taking advantage of all the width of the field as their opponents were a man down. The match finished 1-1, with two slightly disappointed sides with some positives to take from the foreshadowing of the Copa del Rey final and the Champions League semi-finals.