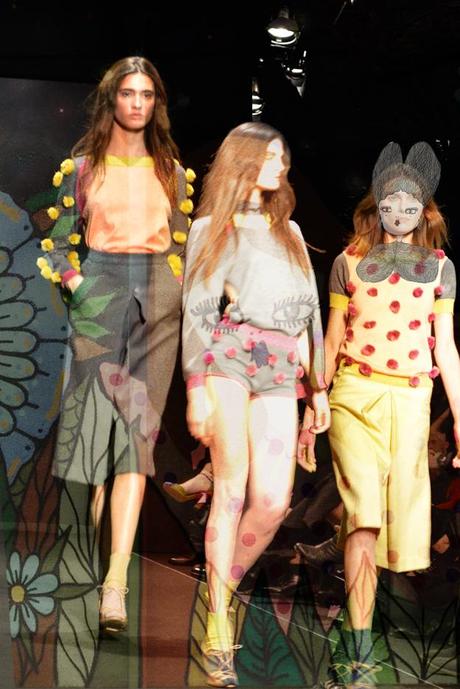 During Quattromani fashion show, we breathed an eerie atmosphere
We immediately understood that there was something magic in the air, although at first sight it was just a veiled feeling.
Clothing with a

hushed

flavor

and texture

,

made of

smooth fabrics

and

silhouettes

declined in

 

knitwear ensemble

enriched with

coy

and funny details

.
T
he natural inclination
for the
ready to wear
that made the duo Quattromani earned
a special mention
in the
latest edition
of Who
is on Next
for
Altaroma
is enriched with
lurex
trim -
for a
metropolitan
allure –
and
chic

pon pon
for
an extremely feminine and slightly bonton finish
.
But it is only
when 
the little
"
Janas"

-

fairies

of the Sardinian tradition
-
designed by
the
artist
Fille
Bertha
appear
that
everything was clear
.
On a suit made of gabardide, the graphic illustrations stand on a pink background, as elements with the immediate charm made even charmer by the two sides of the Janas - the vampirism and the fairy one - which are nothing but the dual nature of  women.
And the 'ready to wear' becomes 'art to wear'.
The stylized and subtle graphics becomes decorum; the unstructured clothing takes its clear shape modeling on the body of the wearer; accessories complete the final look.
Because a woman rarely goes our without the right accessory, the natural and unavoidable exaltation of her femininity.